Last week saw the arrival of Naked and Famous, a band that has generated a lot of buzz and a large following in Montreal and everywhere traveled since the release of   Passive me, Aggressive you. Playing with Winter Gloves at Sala Rossa, the show sold out  in a matter of days.
Naked and Famous  is one of the hottest bands of the summer, with their hit Young Blood  reaching the top of the charts back home in their native New Zealand. The swarm of fans packing Sala Rossa is a  testament  to the popularity of this band globally.
But would their live performance meet expectations? Or were they a great "studio band" but unable to break hearts and pound ear drums under the pressure of a live performance?
Sala Rossa was packed and hot, but when the music started the bothersome humid atmosphere caused by a thundershower a few hours earlier was cooled down by the cool mustached dudes on stage — the members of Winter Gloves.
Winter Gloves came on and treated the hometown crowd to an energetic, lively, and heavily electronic performance, doing it all with a hint of tambourine in the background and giving city dwellers a wild head-trip.
Playing high octane material from their newly released EP Heart Out and their prior album About a Girl  for over an hour, they got the crowd ecstatic and ready for the electricity that is Naked and Famous.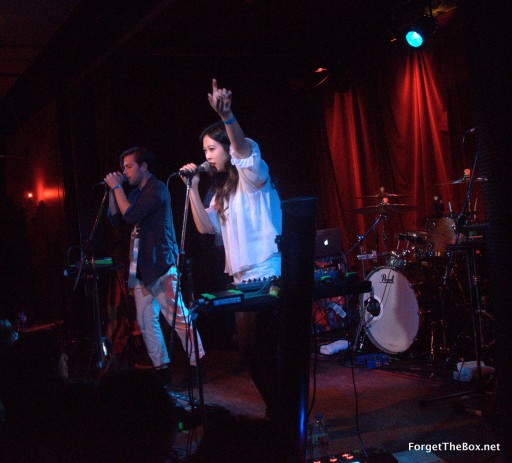 If the summer is about having a good time with friends, then Naked and Famous brought out the necessary tunes, like   their top little ditty Young Blood. The show was highly anticipated, selling out days in advance. Along with their hit single, highlights were All of This,  Girls Like You  and  Spank, all  found on their  album.
Alisa Xayalith was near perfection, and all the tracks were clear, concise and tight.  Guitarist Thom Powers even said during the set, "Don't worry- we plan to play everything." And they they did, playing almost everything off their new release.
A few weeks ago,  Forget The Box interviewed the band to see how their year-long tour is going. They seemed pretty laid back, even through a very long list of performances.  Did they miss home? Probably. Were they happy to perform for all their fans? You bet your life!
It was another great show brought in by  Indie Montreal, which has really been making a name in the music scene over the past year.  The show proved   to be a great way celebrate the summer dusk.
It's good to be Naked and Famous in the summer, especially when you've got fans.
Photos Chris Zacchia  for more Naked and Famous pictures check out our Facebook page!
Here's a Naked and Famous video of their Montreal show: