As part of my continuing "I've never…" series, I went dancing outdoors in below freezing temperatures at Igloofest!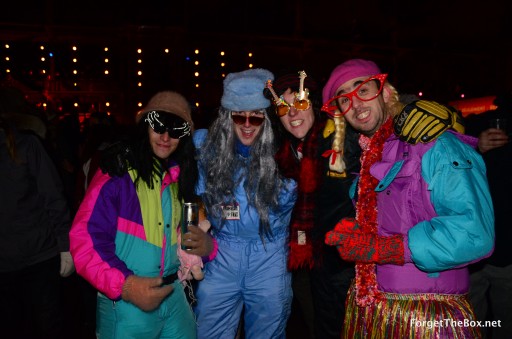 Winter in Montreal is unforgiving, bipolar and frette en esti, which is Québecois speak for really freaking cold! I say the only way to get through it is by taking advantage of it as much as you can, in a "can't beat 'em, then join 'em!" sort of way. Shake off the hibernation and get outdoors. Though Montreal is a bustling metropolis, it also has spaces for playing outdoors. Go skating at Beaver Lake, the pond at the Lafontaine Park or in Old Montreal, cross-country skiing at Parc Maisonneuve, snowshoeing on Mount-Royal, winter running/hiking, whatever it is, just find something fun to do outdoors and play in the snow. So what, it's winter? Get over it and deal. It may be a little killjoy of me to be yet another person writing and talking about Igloofest, but if you hate winter and you hate being outdoors, then I dare you to venture over at least once while you are in Montreal.
For the most part, electronic music is not my thing. I have attended my share of raves and after-hours once-upon-a-time. I've had my moments of lust with trance, drum&bass and dubstep. Every once in a while, I need to expense extra energy and freestylin' my way to the dance floor is one easy way to do it, grooving to the sounds and getting lost in mesmerizing light shows. Igloofest is in it's 6th edition, located in Old Montreal on the shores of the Saint-Laurent River, and though it has now come to an end, it shows no signs of melting away next winter. The event is brought to you by the same folks that put together Piknic Electronik at Parc Jean-Drapeau during the summer, in aims of democratizing electronic music. Politics aside, this is certainly a must try at least once in Montreal.
Layer on the long-johns under snow pants, thermal shirt under fleece under winter coat. Pile on the gloves, scarf, hat and winter boots. If you want to go the extra mile, raid your parents' closet for that one-piece snowsuit you begged them to never wear again or hunt one down at a vintage second-hand shop. When the temperature drops way below zero, you definitely want to stay warm if you're planning on spending a number of hours outside. Igloofest has unquestionably gained in popularity over the years, so you may end up waiting in line. Half an hour after shuffling along the entrance, I finally reached the threshold of ice sculpted bars, contained bonfires and light-shows glowing up the sky. All the while, my toes managed to achieve the preliminary stages of frostbite, and the night was just beginning.
First thought that came to mind was that I had to find a way to warm up, for fear of chickening out on winter and returning to the comfort of a heavy blanket and a movie. Everything feels better after some mulled wine. It was time to pick a stage and get dancing. Brightly coloured one-pieces, animal shaped tuques, all sorts of off-the-wall accoutrement are the norm and are amusing conversation pieces. "Did you see that guy wearing the furry bunny costume?" "Is she really wearing a mini-skirts without leggings?" "Let's count the number of sombreros we spot in one night!" Visual commentary aside, discussions are limited to woot-woots and other monosyllabic expressions.
After a couple drinks, jumping up and down and getting my feet moving, I managed to get the blood flowing back to the tip of my toes. Busting a move in the middle of a crowd certainly gets things heated up both inside and out. All senses are involved: the bright lights, the beats pounding, tingly sweetness on your tongue, the heat generating between your fleece and your skin, crisp air on your cheeks, the scent of cold air filling your lungs. Everything beckons you to get lost in the ambiance, let loose and tear-up the frozen dance floor.
Even if it is only once in an icy blue moon, Igloofest is part of living life in Montreal. At the end of the day, I am still a rocker-chick at heart, but for now, back to the game: I've never ridden my toes of frostbite while dancing at Igloofest… throw back a shot of Jäger.