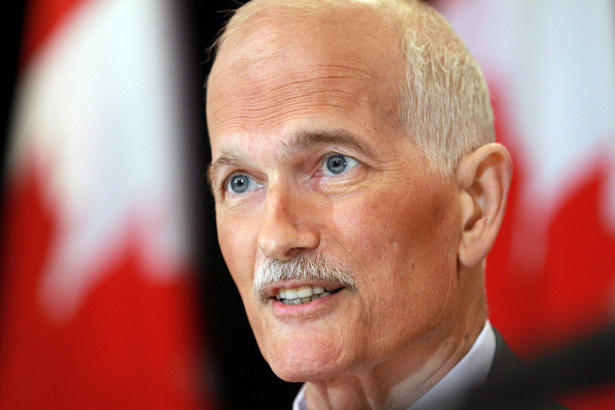 On Monday afternoon Jack Layton, leader of the New Democratic Party of Canada, took to the stage at a nationally televised press conference and announced that tests had discovered a new cancer, different from the Prostate cancer which had dogged him in the lead-up to this spring's election. Looking pale and gaunt and speaking in an almost unrecognizable voice, he announced that he would be taking a leave of absence from his duties as leader, pegging the resumption of Parliament in September as his target date to return.
He spoke of the tremendous support and inspiration he had received from across the country, and told Canadians "I will therefore be taking a temporary leave of absence as Leader of the New Democratic Party of Canada. I'm going to fight this cancer now, so I can be back to fight for families when Parliament resumes."
In an email to party members sent moments before his announcement he said:
If I have tried to bring anything to federal politics, it is the idea that hope and optimism should be at their heart. We CAN look after each other better than we do today. We CAN have a fiscally responsible government. We CAN have a strong economy; greater equality; a clean environment. We CAN be a force for peace in the world. I am as hopeful and optimistic about all of this as I was the day I began my political work, many years ago. I am hopeful and optimistic about the personal battle that lies before me in the weeks to come. And I am very hopeful and optimistic that our party will continue to move forward. We WILL replace the Conservative government, a few short years from now. And we WILL work with Canadians to build the country of our hopes, Of our dreams, Of our optimism, Of our determination, Of our values… Of our love.
Jack was, as always, Jack. Nothing personifies the optimism, the strength and the courage that our 'bon Jack' from Hudson has brought to every challenge he has undertaken, better than this beaming ray of optimism on such a sombre occasion.
Let me say it now, unequivocally, Jack will be back. The spectacular strength and determination he showed as he overcame a fractured hip and Prostate cancer to lead his party to its most spectacular showing in history are already the stuff of legend. His courage is the most enduring and defining characteristic of a man who has spent his life in the service of others.
As Kathleen Monk, the NDP spokesperson, said on television shortly after the announcement, "I wouldn't bet against Jack"
Meanwhile the mainstream media, once past the obligatory compliments on his courage and legacy, are full of doom and gloom. Op-ed writers across the country are treating his departure as permanent and already writing the obituary for a party they say can't survive his departure. Poppycock. Poppycock on both counts.
Jack will be back. I've never known a stronger man, or one who could accomplish so much through sheer force of will. And in the meantime the party will be just fine. The media love to chortle at perceived rifts in the caucus: between "nationalist" Quebec MPs and the rest, between left and right, between whole wheat and white bread eaters it would seem.
Well the NDP is no loosely assembled collection of parts, unable to define itself outside of the large shadow of our 'bon Jack'. The NDP stands for one simple yet brilliant idea. One little idea that poses more of a threat to the powers that be in our country than anything else.
The idea that all government policy should be in service of the people. That we can do better, be better, and that no challenge is insurmountable when we leave the interests of the richest few aside, and champion the cause of the powerless many.
That is what the NDP stands for, and every member of the NDP's caucus is united in this core belief. No doubt there are differences of opinion on how this idea should be implemented, as well there should be in a democratic system, but the NDP is more than Jack. He personifies this belief, he champions and demonstrates it in all his actions, but it does not leave with him.
I have heard it said by many who go to work in political Ottawa that the most shocking realization is that the media "experts", whom they had religiously devoured before, are in fact so singularly ill informed as to what is actually happening.
The NDP caucus is not, as these experts would have you believe, fragile or fractious. It is united, in belief and in purpose, and it is ready to carry on the battle of our lifetime. The battle to replace the divisive and destructive Conservative government with one which will work to build this country, not destroy it.
For now they will do so under Jack's inspired choice for interim leader, Hull-Aylmer MP Nycole Turmel. Ms. Turmel may not yet be well known to readers outside of Quebec, but she most certainly will become so.
As the first female national president of the Public Service Alliance of Canada, her managerial and leadership skills are unchallenged. Less well known is her rock solid commitment to social justice and her tenacious dedication. These will become abundantly clear in the days and weeks ahead.
At a time like this it seems almost crass to focus on the welfare of a party, when a man's life is at stake. But I know Jack would not have it any other way. Jack believes in this country, in its innate goodness, in its imperfect quest for equality and a just society. He has dedicated his life to his vision for Canada, and I know he will continue to fight for it until his dying breath.
Jack Layton is a true Canadian hero. And as he undertakes yet another battle in which he is perhaps the underdog, recall his bold words of hope from the campaign trail "Don't let them tell you it can't be done". We won't, and we'll be waiting for you to lead us out of our Conservative nightmare brother.
You're in our hearts Jack, you always will be.