The French term for sustainable is durable. The word, in many ways, evokes something more than just environmental attention or corporate buzz-speak.
We're brought to think of things lasting, enduring, persisting, radiating outward to all the circles to whom they serve.
For Samara Davis, durability is a daily motivation.
After finding herself out of a job due to layoffs at a video game company, the designer spent months pondering what, for her, would be a truly "lasting" contribution to the world.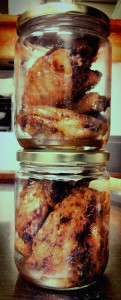 What she's come up with is nothing less than poetic: a human-focused food business that offers homemade dishes in reusable mason jars.
But it was her seventeen year old son that proved to be her greatest inspiration. Unconvinced of the range of viable work options for people with autism after graduation, Davis decided to carve out a business tailor-made for the hands of her own children.
"I had a huge concern," she notes, "what was he going to do as a job? I wanted to create a family business for my children, for my daughter to fall back on to help take care of her elder brother."
Characterized by Caribbean-Canadian fusion, her startup Jar Bar has begun to make its mark on offices, corporate functions, weddings, 5 à 7s and, in the words of Davis: "moms looking for homemade meals."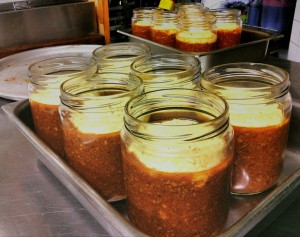 The menu changes regularly but features a certain thread: big, surprising flavours and homemade comforts. "We only use grain fed meat and poultry from Mc Cormacks," says Davis, adding, "many dishes are gluten free (with no preservatives as the jar is the preservative), and a lot of my herbs and spices were grown and freshly ground by my maternal grandmother in Trinidad from whom I learned how to put love in my meals. She is 92, came from a family of eighteen kids and herself had eleven. She still grinds turmeric to this day despite arthritis."
The Bernadin glass jar, in this case, is now a vessel for soulful creations like Taj Waldorf salad (where green mango stands in for the apple) or the yardie sundae (a play on the cowboy sunday, whereby the standard pulled pork is transformed into jerk pork and the whole is topped with pineapple chow).
But jars are not just an aesthetic choice. They also play a role in "storage, insulation and transportation," notes Davis, who points out that companies like Cuppow have long offered thoughtful accessories for the Mason jar as a "platform."
The jar also plays a role in portion control, says Davis, who has observed that, despite coming up with some intensely-flavourful combinations, "at 500 ml and people find they are pleasantly satisfied not having overeaten or stuffed uncomfortably."
If Jar Bar's offerings are diverse, they're all sewn with the thread of "home," from Davis' Trinidadean roots to her life in Canada.
The modest transparency of the mason jar—"a hundred and fifty years old, and particularly suited for Canada with its weather changes," Davis tells me—makes for a surprisingly elegant vessel. Instead of an opaque bowl, all the colours and layers of, say, a Vegan curry are revealed through, amplifying salivation and anticipation for party-goers and families alike.
Though the layers are an aesthetic choice—a byproduct, perhaps of Davis' design background—they also serve a sustainable purpose.
"Layers are very methodical to people with autism, assembling the dishes in these jars lends well to their mindset. It's the ideal job for my son and his classmates."
To check out the flavours and designs of JarBar, or place an order for your next event (or just for dinner!), check out jarbar.ca or the company's Facebook page.