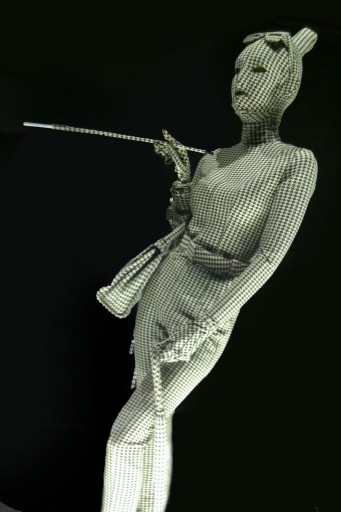 Like so many of my contemporaries, I have a habit of procrastinating, even when I'm looking forward to something. Therefore, it came as no great surprise that I found myself battling the closing day masses to steal a glimpse of the level of greatness usually reserved for few precious eyes amongst the Paris Fashion elite: haute couture. And not just any couture, that of the unconventional genius dubbed by L'Enfant Terrible of fashion, the one who poured his charismatic heart and soul into every stitch he made, Jean-Paul Gaultier.
A retrospective of his work entitled "From the Sidewalk to the Catwalk: The Fashion World of Jean Paul Gaultier" was on display at the Musee des Beaux Arts from June 17-Oct 2. My expectations were understandably high after viewing the delicate creations of another French master couturier, Yves Saint Laurent, at the same museum as few years back. But upon first mounting the stairs to the Gaultier exhibit, I knew the curators had taken things to a whole new level.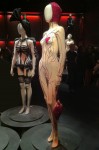 I was greeted by a row of mannequins unlike any I'd seen before… their eyes blinked and darted around the room, as if to try to glean as much as they could about those who are staring at them. "You don't even notice the clothes at first," I overhead someone say, taking the words right out of my head. But then, after the novelty of facial projection effect wore off and I did notice the clothes, I was unable to take my eyes off them.
Two of Gaultier's signature inspirations were featured prominently at the entrance: nautical and mermaid. Gaulter himself was there, albeit in projection form, to introduce the exhibit. As opposed to a strict chronological retrospective, the exhibit gathered the designer's work under six thematic umbrellas, ranging from his ground-breaking work empowering women in the Boudoir to the inspiration he took from the Belle Epoque glory days of Paris and the gritty punk-rock attitude of the streets of London.
These themes were spelled out in cursive neon signs that shone brightly against the black background. I was captivated instantly by the first room I entered, 'Skin Deep,' which featured his famed fetish looks of the early 90s, alongside a series of morbid yet playful takes on the full-body leotard and gender-bending men in skirts that he introduced as part of his 1985 'And God Created Man' collection.
"I'm not trying to put all men in skirts. I just want to give them the freedom to wear a skirt if they want to. Women fought for years to wear trouser," Gaultier once said. And I can completely see where he's coming from. Skirts do feel more free and earthy than pants, be they skinnies or flared.
Gaultier is famous for breaking down barriers of all types with his clothing, including gender. "Except for the medieval codpiece and the bra, garments have never had a gender," he once said. To illustrate this, the curators placed one of the male mannequins sporting a feminine silhouette facing a mirror, confronting his reflection. Aloud, he questions his decisions while being taunted by the face in the mirror, wondering if his ego is ready to commit to that sort of look.
Building on the work of predecessors such as Dior and Vivienne Westwood, Gaultier revolutionized the look and image of the corset. He lifted it from oppressive roots in the Victorian Era to a place of true sophistication and style.
His designs included exaggerated features like in the cone-shaped bra made famous by Madonna and a plastic moulded armour reminiscent of a medieval knight, lending the item an air of powerful sensuality. Getting to see some of his most famous corsets up close really let the details shine through, the impeccable stitching to fit like a second skin.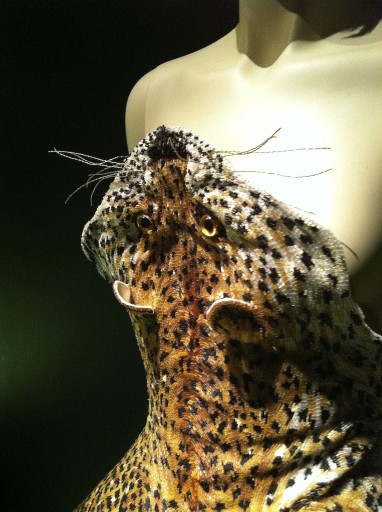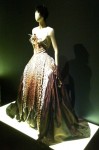 I could go on and on, but I will close with one of the true showstoppers of the exhibit. At first glance, it appeared to be an unassuming leopard skin dress, tucked away in the corner of the Urban Jungle room. It wasn't until I got up very close that I realized no leopards were harmed in the making of the garment as the entire thing was beaded. According to the accompanying card, the piece took 1060 hours to complete, in keeping with the haute couture standard that every single piece be sewn exclusively by hand. I couldn't help but envision Gaultier, beading 'til his fingers bled and his eyesight blurred. A labour of love, I'm sure he'd say.