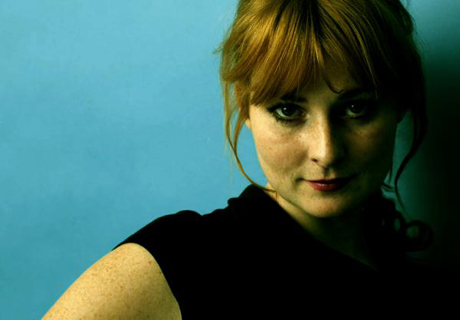 The type of music the rises from talented artists by the sea is easily loveable, fun and enchanting. Everyone who's from the east or west coasts of Canada knows there's a magical molecule that swims to the beach shores, joins the fresh salt air party, and merges with your blood cells, filling up your heart and soul, making you unmistakable playful, joyful and happy. We're talking wool mittens with strings, colourful hats, and city streets and sidewalks turned into dance floors. We just live up, or those by the sea…they know how to have a good time.
Sure, call me biased…because I am – born in New Brunswick, grew up in Halifax, gave my heart to Montreal. The girl may leave the sea, but the salt sea air will never leave the girl. And that's what Jenn Grant will do for you. Fill you up with delirious sea salt air pleasure.
Jenn Grant writes and sings love songs that sink deep down to that part of you who hates to admit you want to enjoy love, you want to hold it, you want to sooth it – you just want it. She gets under your skin with her sweet-birdy melodies and captivating voice. She makes you want to be in love, and as a result you do fall in love…with her folky, pop music. And her live performance will have you laughing with her corky jokes, smiling as her wonderful aura fills the room and longing for more and more and more and more…after you've left. Because, when it's live…it's gotta be good. And Jenn Grant, she's very good.
Jenn's just released a new album, Honey Punchmoon, which houses a variety of happy-go-lucky songs. This new release also has her currently touring Canada to share those songs with all of us. But, don't be fooled, she wasn't always this happy. Over the years she has grown from a heartbroken young lady to a happy, fun loving woman. You literally feel the difference and almost understand the process of her development as an artist and person when you've been listening to her throughout her career – Don't Worry Baby to I Was Your Woman to You'll Go Far…and now, Getcha Good.
Cool beans. Come be happy, have some good fun and enjoy the good times from the Maritimes brought to us in Montreal by Jenn Grant.
Live Thursday @ Le Divan Orange Jenn Grant, David Martel and Laurent Bourque. Get Advanced tickets @ indiemontreal.ca ($8 or 4-for-$29). Cheap Thrills and Atom Heart are ticket hotspots. It's well-worth $10 @ the door   @ 8:30pm. Music starts at 9:00 pm.
Check out her latest video, Getcha Good. It was filmed up the street from my old apartment in Halifax! Woot!
Photo exclaim.ca