It has been a little bit more than a week since the horrific shooting took place Charlie Hebdo's offices, at 10 Rue Nicolas-Appert in Paris. It's also been a little bit more than week since I wrote my last article – and boy has it felt like an eternity. On that day, it seemed as though the sky was falling on our heads, and the whole world had lost any sense of gravity. Ferocious debates broke out throughout the world, igniting fires at every corner. But the one that was lit in the aftermath of the January 7 attacks that still blazes today – an abyss of fire, straight outta hell – is the one divides us comrades of the Left.
Almost immediately after the attacks, the hashtag "#jenesuispascharlie" made its appearance, the manifestation of a section of left-wing people –mostly Anglophone here in Canada – who had trouble coming to terms with Charlie Hebdo's lapidary sense of humour and razor-thin usage of satire. Within the past week many cried "racism" and "xenophobia." They were appalled, even scandalized by the "racist rag" that was Charlie Hebdo, and how it perpetuated French imperialism and French neo-colonialism.
The violence perpetrated against Charlie Hedbo didn't appear out of nowhere. Nothing exists in a social vacuum and surely, Charlie Hebdo reinforced (either willingly or unconsciously) the violence, the racism, and the xenophobia in French society. That was their argument – although they condemned the attacks, they couldn't come around to defending the satirical publication for these reasons.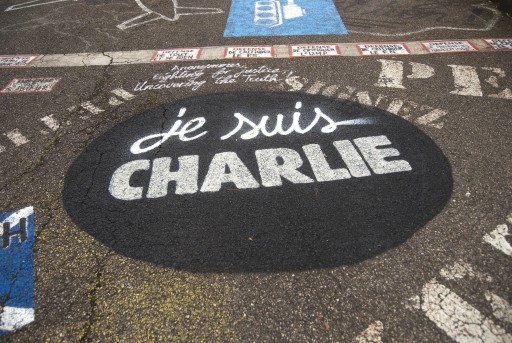 On the other hand, hundreds of thousands, if not millions of disciples of the 'Word of the Market' – capitalistic fundamentalists – which Charb and all the others at Charlie Hebdo had fought with the blatant, in-your-face passion which was their trademark, joined the ranks of the newly sanctified #jesuischarlie crusade, along with xenophobes, racist brutes, and fascist skinheads, who had finally found their call to holy war.
The link between both the "anti-racist" leftists (or as Zizek calls them, 'liberals') and the right-wing opportunists and their facistoid crusaders, is that they were all wrong!
First of all, even though this point has been reiterated time and time again – here's an excellent Ricochet article – Charlie Hebdo was anything but a racist publication. I will not reiterate here all the facts that prove that CH wasn't a racist publication, or go into details about the particular nuances of their satire, but let me be clear: Charlie Hedbo isn't a "racist rag." There are those on the left that didn't even know what Charlie Hedbo was prior to the attacks. Two minutes after seeing one of their covers, they decreed with their almighty "super radical" powers that CH was a "racist rag." Charlie Hebdo and the CH team worked with SOS Racism in France and campaigned actively for the rights of the sans-papiers, fought against anti-Roma discrimination in France and was vocal against the Israeli perpetual oppression of the Palestinian people, it was known generally to the French public was CH was a left-wing, anti-racist, publication. This being said this doesn't absolve Charlie Hebdo and the CH team of their overemphasis on Islam, in the context of the war of terror, which as has been said before, played in many ways into the Islamophobic and xenophobic rhetoric that has been and is dominant in French society and that must be condemned. The fact that in the wake of the 9/11 attacks many journalists of CH quit the publication because of Philippe Val's editorial line that promoted depictions of the Prophet Mohammed and Charlie Hebdo descent into Islamophobic straits, is a manifestation of the tensions that existed. Unfortunately the best example of the over emphasis on Islam and Muslims is that CH decided once again to depicted the Prophet on the front cover of their latest issue, which is mistaken and wrong in my view.
This is a complex issue and there is, in my view no clear cut answer. Sometimes it is easier to condemn and to excommunicate, as it is easier to give a clear-cut simple answer to a very complex question: a simple answer that can create a unifying discourse that criticizes Islamic fundamentalism and every religious fundamentalism, while at the same time denounces Islamophobia, xenophobia and racism; a discourse that protects minorities, religious or not, that also denounces religious fundamentalism and its intolerance, its worst misogynistic, homophobic, and transphobic aspects.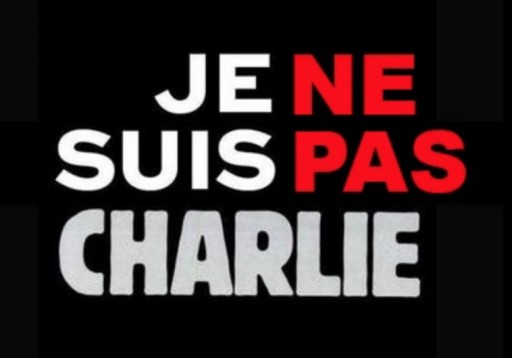 Charlie Hedbo used, at least in my view, an interesting tactic: they analyzed various discourses – public, religious fundamentalist, fascist, the most dominant ones – used them against themselves. Charlie Hebdo twisted, turned, and transformed racist stereotypes and rhetoric to transcend them. Charlie Hebdo is filled with hundreds, if not thousands, of cartoons and caricatures, that shredded to pieces the racist, neoliberal and austerity discourses that were and still are prevalent in French society.
Many on the left decided to overlook such aspects in their criticisms, perhaps out of ignorance or maybe out of malice, or to advance some sort of agenda.
One thing is clear though, the attack against Charlie Hebdo's offices reopened a blistering wound, a schism that has plagued the left for the past few decades: the inability for left-wing forces to reconcile "identity politics," which can be broadly defined as anti-racist, anti-xenophobic, struggles for recognition, as Axel Honneth defined them, and the struggle against fanaticism of all stripes, against the economical fundamentalism of capitalism. What these tragic events do offer for the left is an opportunity to unite. One positive aspect of the #jenesuispascharlie hashtag is that it opens up a period of reflection for all of us on the left, and it begs the question: How can we fight fanaticism without becoming fanatics ourselves? How can we fight sectarianism, without becoming sectarian ourselves? The answer is to be found in a reformulation of traditional leftist internationalism which has been on the back-burner for too long!
On the other hand #jesuischarlie, has become the antithesis of everything Charlie Hebdo once stood for and maybe – let's hope – still stands for. In the name of Charlie Hebdo a new religious fanaticism, a sort of McCarthyist witch hunt against all of those that dare to say that they aren't Charlie has emerged. Charlie Hebdo's crew anyways found refuge in the idea that not everybody was Charlie; that their humour, their worldview wasn't "mainstream," but marginal. That was their saving grace, the essence of their publication, and of their journalistic project. Thus, making #jesuischarlie into some sort of religious dogma is completely missing the point, and beyond that it's an insult to the memories of those that #jesuischarlie is supposed honour. The core value of #jesuischarlie must be tolerance – the fact that we agree to disagree. We agree that people aren't Charlie, will never be Charlie and, don't have to be Charlie – and that's just fine.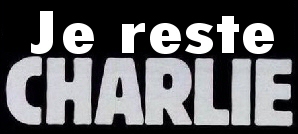 This being said, it isn't surprising that #jesuischarlie has become such a twisted and void slogan given the amount of tyrannical superstars, who have endorsed the so-called 'movement.' Some had high hopes in the aftermath of the tragic events that occurred on January 7, but by January 11, anyone that still hoped that #jesuischarlie would translate into a movement that would defy the institutional structures that continue to propagate discrimination and inequality were and remain delusional.
The fact that right-wing politician Nicolas Sarkozy used Charlie Hebdo's tragic fate to boast his own political agenda; the fact that dictators, oppressors of free speech such as Netanyahu used #jesuischarlie to advance his call for French Jews to return to Israel; the fact that Marine LePen is using #jesuischarlie to advance her Islamophobic poison and justify the hate crimes that are rampant across France; and the fact socialist prime minister Valls is using #jesuischarlie as a trojan horse to pass the French version of the Patriot Act, in order to jail all those that have been thorns in his side for the past few years – Dieudonné – is tragic. It's senseless, it's disgusting. It's so bad, that I don't even know if Charlie Hebdo's satires could render it justice.
So as things stand, we have a raging right-wing pole, disguised in the drapes of 'Free Speech', which in the name of an extreme-leftist publication has called for a Holy War under the banner of #jesuischarlie. We have leftists – only in name – who have decided to follow in their steps under the fake banner of National Unity. We also have leftists that have decided to embrace the #jenesuispascharlie rhetoric, and finally, we have those that will try as best as they can to stay true to the essence of Charlie, #jerestecharlie: those who understand the true essence of what Charb, Cabu Wolinski and Tignous stood for, understand what strain of leftism they came from.
There is one important lesson for the left to take from the tragic events that occurred last: there are many "lefts," but nevertheless we must live with that, and work together. But most importantly out of the ruins of the Charlie Hebdo massacre comes the possibility for the left to build a Popular Front – instead of a National Union – that will reinvigorate the strain of radicalism born out of the French Revolution and build a movement that will simultaneously fight fanaticism and xenophobia.
Last Wednesday in a spontaneous moment of solidarity, I joined hundreds that had gathered in front of the French Consulate in downtown Montreal. At the end of the gathering, the crowd roared a resilient "la Marseillaise," But what we need now isn't La Marseillaise, what we need now is L'Internationale!