The Ethnic Show is a Just for Laughs staple. Promoted as a "hilarious celebration of global perspectives" it features an ethnically diverse cast of comics cracking jokes about their own cultures and how whites treat them. It's one of the few events where white people can feel comfortable laughing at ethnic jokes, guilt-free.
In the past, The Ethnic Show has been kind of hit or miss for me. Some of the comics are great, pulling no punches with their critiques of their own cultures and how white people react to them, while others are lame, opting for the most clichéd ethnic jokes or lame-duck tactics like busting out a guitar.
I was pleasantly surprised this year.
The host is Cristela Alonzo, a Mexican-American from Texas. Though tiny and sweet looking, she made a perfect host, not just because her material was funny, but because as a comedian, she's relatable and likeable.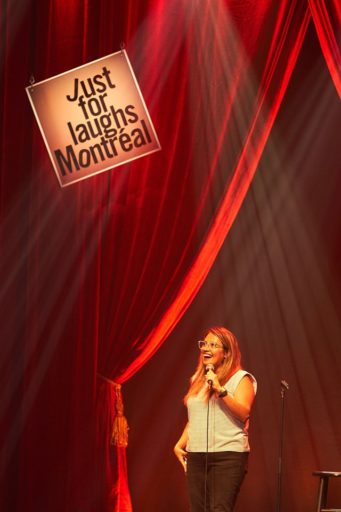 Her material ranged from encountering racism for the first time, to her homogenous upbringing, to the adventures of getting older. She also made one of the best Trump jokes of the night, saying she's ok with the wall…
"Because we build tunnels now!"
Next up was Italian comedian Anthony DeVito, who began his set bemoaning the fact that he looks ethnically ambiguous. His comedy is primarily self-deprecating, his set taking jabs at himself, his girlfriend, and his grandmother (or Nonna), and the racism of older generations.
His set was very stereotypically Italian, but the shy, angry, self-deprecation of his delivery made it hilariously endearing and a joy to watch.
DeVito was followed by Brazilian comedian Rafinha 'Rafi' Bastos, who was one of the funniest acts of the night. I had seen Bastos perform as part of Laugh Out Loud Live! last year and in my review I said he'd be a great addition to The Ethnic Show, so I was overjoyed to see him on last night's roster.
While a lot of his material – like his bemoaning the fact that Brazil is known for bald pussies – was repeated from last year, he had enough new material to keep the set fresh, and his loud angry delivery was hilarious enough to make me not care about the old stuff. In addition to making fun of himself, he took potshots at plastic straw bans, turtles, and English insults – pointing out that 'pussy' doesn't work as an insult because every pussy he's encountered has been strong and durable.
Dave Merheje, a Lebanese Canadian comedian, was on next and I had high hopes for him. I had had a chance to interview Merheje before the festival and had seen past performances on YouTube. He is incredibly funny.
Unfortunately he spent too much of his time last night trying to engage the audience, who weren't having it. When he finally did launch into his material, he was great. Here's hoping he focuses on that for future performances.
After intermission Robby Hoffman took the stage. A former Lubavitch Chasidic Jew-turned-Lesbian, a lot of her set was about growing up in a religious household with a Jewish mom and nine siblings.
As a Jew, I found this material kind of tired, but that's probably because her jokes were things I hear about all the time from my friends. She also had a bit on dried fruit that could only be described as lame. Her set vastly improved when she started joking about gender, sexuality, and the pay gap, saying that men should pay for women because:
"Pussy is expensive. You want free? DICK is free!" A joke that had the audience hysterical.
Last to go on was Donnell Rawlings. Other media I met at the event described him as a disciple of Dave Chappelle. In addition to being a comedian, he also has an upcoming role in Kevin Smith's Jay and Silent Bob Reboot film.
He came on stage loud and proud, singing along to the country song Old Town Road by Lil Nas X with the vocal prowess that showed that if he ever decided to quit comedy, he might have a shot as a singer.
Rawlings is a comedic powerhouse. Every joke hit the mark, from his bit about how black people don't pick up shit, to being into white women who work for non-profits, to his rant about rock music.
He was a great way to end the show and people left the theatre still laughing at his performance.
The Ethnic Show runs from July 11-25 at the Just for Laughs Festival. Check it out