The Angus Development Corporation stated Tuesday that it would be rethinking its plan to erect an office tower on the west side of St-Laurent Boulevard between Ste-Catherine and Rene-Levesque.   This comes over a month after the Office de Consultation Publique de Montreal (OCPM) released its report urging more reflection and a better plan for redevelopment of the area.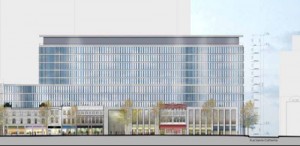 Back to the drawing board: proposed office tower
"The OCPM has unequivocally stated that this whole project has to go back to the drawing board," said Velma Candyass of the Dead Doll Dancers, "it sure as hell is making Angus stop and think.   Removing historical (and newer) showbar venues and replacing them with an office building in an area that is defined as the Quartier des Spectacles makes no sense."
Candyass and her troupe are among a group of independent and emerging artists who took part in the public consultation meetings, arguing that the performers who call the top floor of Café Cleopatre home should be included in any redevelopment plans.   The area is also Montreal's historic Red Light District.
Stating their case: Velma Candyass and Felicity Fuckhard at the OCPM meeting in June     (photo Chris Zacchia)
"The reality is that something is going to be built," Candyass commented, "but it cannot be done without us – the artists. The OCPM has recognized in their report that there is a thriving alternative art scene in the area."
Angus president and general manager Christian Yaccarini told reporters that he hoped to have a revised plan ready by the end of the month.   This is in sharp contrast to statements he made at a press conference in June where he argued that the plan needed to be approved immediately or the major tenant, Hydro-Québec, wouldn't be able to move in.
Whether Angus will actually present a comprehensive new plan for the area or merely "slap on a new façade" and call it a new design has yet to be seen.   It's also uncertain how Monteal mayor Gerald Tremblay will react, given his previous glowing support for the project.
What is known is that this turn of events will most surely help make the mood at tomorrow's Contre-Courant, the Fetish Film Festival, more festive.   Contre-Courant is a celebration in support of the community of alternative arts and performances on the main.
The event is part of Montreal Fetish Weekend and will feature the Dead Dolls Cabaret along with members of Club Sin and Stella, performances by Reena and the Pussycat Drags, Nat King Pole, Tommy Toxic, Dakini Dancers and others.   There will also be films by Dominic Vincent, Izabel Grondin, Gwen Media, Anthony Teoli, Matthew Saliba and more.   There will also be speeches by Vivian Namaste, Dr. Jean Dominique Leccia and Café Cleopatre owner John Zouboulakis.
"Contre Courant is about being 'against the current' or pulling the plug on the project," explains Candyass, "it's something that is different and is a unique form of energy and synergy…the mood will be celebratory and we'll be more determined than ever to make sure our voices are heard."
Contre Courant: Friday, September 4th (tomorrow) at 8pm at Le Medley, 1170 St-Denis, $10 at the door. Angus' new proposal: ?