The Revival was the scene of the hottest show in Toronto last weekend.  The Justin Bacchus Collective held their CD release event at this swanky downtown joint, and quite honestly, I've never been to an album release that hosted as many guests before.
Bacchus and the band drew on its fans from their years of residency playing at the famed Rex Jazz and Blues bar, a musical mecca in the heart of downtown Toronto.  It was at the Rex that this group of musicians, who were all at the top of their game already, were able to jam together and fall into their Collective groove.
They have honed a sound that is very obviously influenced by Stevie Wonder and his contemporaries, but each song has been given the "Collective treatment" which is uniquely theirs; a blend of funk and jazz, with some soul and R&B in there too.  There are even gospel inspired harmonies in some tracks.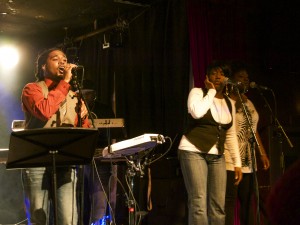 Yes indeed.  The music is colourful and engaging.  Every band member is in the top tier of the city's pool of talented musicians.  They're make-a-deal-with-the-devil good.
Seriously.  Bacchus fronts the band with his powerful pipes and wrote or co-wrote most of the tunes on the album.  The music director of the group, Sam Williams, who also plays keys/synth and bass and co-wrote many of the tracks, has done some truly outstanding work arranging the tunes on the album.  Elmer Ferrer performs electrifying solos more skillfully and tastefully than most musicians I've seen; he's an absolute monster on the guitar.  Larnell Lewis masterfully provides the rhythm section.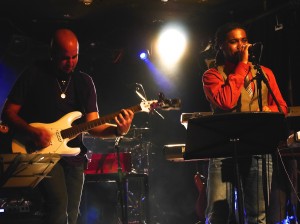 This is a must-see live band if you like jazz and funk music.  Their spirit is contagious.
That said, it's always an extreme challenge to capture the energy of a live show in a studio recording, especially when you're accustomed to performing to fans who obviously love and adore you, because players feed off the audience and vice versa.  Time of Your Life comes pretty damn close to a live show.  Listening to the album, it's so obvious that everyone in the sessions is having fun, and that's what funk is all about.  The Justin Bacchus collective brings a refreshing modern flare to music that any fan of Stevie Wonder or James Brown would truly dig.
Hopefully some footage from the CD release will be posted, but in the meantime check out a video of the band performing John Mayer's hit Waiting on the World to Change at one of their regular gigs at the Rex a couple years back.
At this point in time, only one of the album tracks, What It Is, is available on iTunes as a single.
Photos by Stephanie Beatson