Prime Minister Justin Trudeau. That's something Canadians had better get used to hearing for at least the next four years, maybe longer.
I'll be the first, and certainly not the last, to admit that it has a much better ring to it than Prime Minister Stephen Harper. Then again so would Prime Minister Elizabeth May or Prime Minister Tom Mulcair, hell, I could even live with Prime Minister Ben Mulroney or Prime Minister that guy who works at the dep near my house and lets me use Interac for under $5 (not the strongest on the economy, but a real man of the people).
After close to a decade of destroying everything it means to be Canadian and a few months of trying to get us to hate our neighbours, Stephen Harper had to go. And now he's gone as both Prime Minister and apparently (though not officially yet) as leader of the Conservative Party as well.
Canada's Obama?
If you went on social media at all yesterday, you were most certainly greeted with jubilation in the form of celebratory status updates and memes like this one:
And this wasn't just from your usual cast of politically-fixated characters, either. It seems everyone was jumping on either the Harper's Gone bandwagon, they Yay Trudeau bandwagon, or both.
Globally, this is playing as a great victory for progressives. While Democracy Now hosted a cautiously optimistic discussion, most of the international coverage has been celebratory. The UK's Daily Mirror even asked if Trudeau was the sexiest politician in the world, comparing him to the likes of shirtless Putin and Obama.
Come to think about it, style-wise, Trudeau is Canada's Obama as much as Stephen Harper was our George W. Bush and our Dick Cheney rolled into one. He's a young, charismatic politician who talks a very good game. He even used "Real Change" as his campaign slogan and comes across as a real man of the people.
Just look at him shaking hands at Jarry Metro hours after winning:
A lot of what Trudeau said during the campaign sounded great, so did quite a bit of what Obama said back in 2008. But just how much of what he promised or seemed to promise did Obama actually accomplish? And, now more importantly, just how much of what Justin Trudeau said that he would do or implied that he would do will he actually do?
It's Not About the Leader, It's About the Party
Unlike American politics, in Canada it isn't all about the name at the top of the ticket. In fact, only voters in the Papineau riding actually got to vote for the name at the top of the winning ticket this time. Despite Harper's attempt to turn the Prime Minister's Office into a sort of Oval Office and muzzle MPs who disagreed with him, that's really not how it works here.
If you want to know if Justin Trudeau will bring the change he is promising or if he will simply take advantage of all the Omnibus bills Harper passed without being blamed for them (he already ruled out repealing the horrific and completely unneeded C-51) you have to look beyond him and his charm to the party he represents.
After almost a decade of Harper rule, it's easy to forget that the Liberals are actually regarded as Canada's natural governing party. One thing they are known for is campaigning to the left and then, once in power, making a sharp right turn.
They are populists who promise what they think most people want to hear. They keep only the promises they want to (or the ones their financial backers want to) and those they can't avoid. This is in contrast to both the Conservatives and the NDP, who are ideologically-driven parties of principle.
Generally, this means they will get their progressive social policies through. We got marriage equality under Chretien, a Charter of Rights and Freedoms under Pierre Trudeau and we will probably get pot legalization under his son, even though that was bound to happen anyways.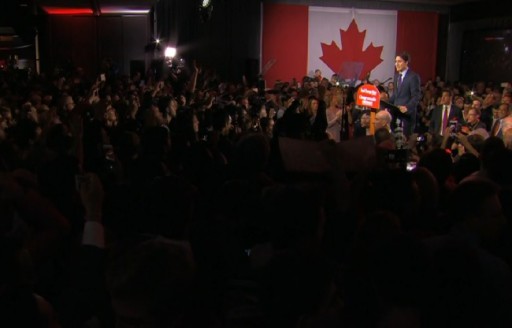 When it comes to economic issues, that's another story. Sure, Trudeau will probably run deficits as he promised, but I would be really (and pleasantly) surprised if they were actually used to combat austerity.
One of the saddest things to happen in this election is the defeat of several prominent and very progressive NDP MPs, including two former leadership candidates, Jack Layton's replacement in Tortonto-Danforth and a huge chunk of the Orange Wave. Some were experienced MPs, others had found themselves working their first job in politics. All were committed, in one way or another, to social justice.
Trudeau, on the other hand, is bringing more conventional political types with him to Ottawa. He's also bringing Bill Blair. Yes, the same Bill Blair that was Toronto Police Chief, Harper's police chief, during the massive police repression at the G20 summit. He is now a newly elected Liberal MP. Is this guy really what passes for "real change" these days?
Sure, Trudeau is likable, but his MPs, for the most part, pale in comparison to those who are out of work or never got the chance.
Back to Where We Were
Stephen Harper was an aberration in Canadian politics. Canada is a centre-left country. The fact that such a regressive administration could hold power for so long is abhorrent.
Ten years ago we had lived through over a decade of Liberal rule and were ready for the next step in our evolution. A step that would have seen Canada become a real progressive nation, a social democracy with the size and scope that would make us unparalleled in the western world, but instead of moving forward with the NDP we jumped back, way back, with the Conservatives.
A Liberal Majority government is not progress. We have simply returned to where we were before Stephen Harper took power. Progress is ahead of us, I know it, I feel it, but we will have to wait at least four years for it to happen.
All that said, Stephen Harper is gone and we should rejoice. Justin Trudeau is our Prime Minister and we have to accept that. Who knows, maybe he'll prove me and all the skeptics wrong, I sincerely hope so.
Until then, we should be vigilant and make sure that he sticks to what he promised and push him to do more. It's all about social movements now. Sure, he's not as easy a target for progressives as Harper was, but that shouldn't make a difference.
If Justin Trudeau thinks that people on the political left wouldn't dare hold his feet to the fire given his newfound popularity and the fact that he isn't Harper, I have three words for him: just watch us.