It happened. Justin Trudeau has gone from the Selfie Prime Minister to the Photobombing PM. At least that's what it seemed like yesterday.
He was speaking (and I use that term liberally, he really didn't get to talk much) at a Youth Labour Forum in Ottawa. Most of the assembled crowd, though, seemed less interested in Trudeau's platitudes then they were in speaking up on his inaction or potentially wrong action on several fronts.
They were upset over what his signing onto the Trans-Pacific Partnership would mean for their job prospects and the effects of "precarious work" which Trudeau said is now a fact of life. They also challenged Trudeau on his broken election promises, saying "we don't have dialogue with liars."
At one point, a group of attendees literally turned their backs on the PM because they felt he had turned his back on them. This led to the image you see at the top where it looks very much like Trudeau is an unwanted part of the photo.
Overall, it hasn't been a great couple of weeks for Trudeau. On Monday, about 200 protesters showed up on Parliament Hill upset with the prospect of our Prime Minister approving the Kinder-Morgan Pipeline. Close to 100 of them were arrested.
Last week, just after celebrating one year in office, Trudeau made the argument that the fact that he won the last election meant electoral reform was no longer urgently needed. The irony of this stance wasn't lost on many, including Hill Times cartoonist Michael De Adder: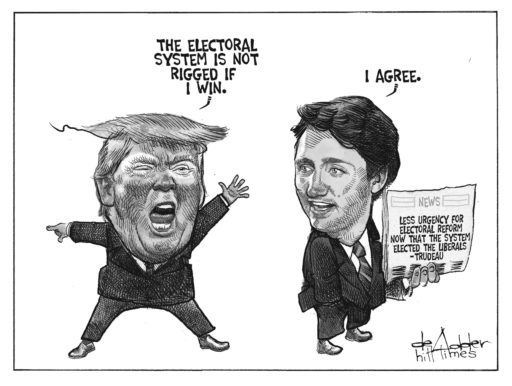 Trudeau Had a Long Honeymoon
Up until a few weeks ago, things had been running real smoothly for our PM. Sure, there were attacks, but most of the ones which garnered major media attention came from the right and were over ridiculous things like him posing for shirtless selfies or progressive things like an MP (who has since passed away) trying to make the lyrics to O Canada gender-neutral.
The only time the NDP made a go at him that garnered mass coverage, it failed. It was supposed to be about his strongarm political tactics, but it ended up being about the physical movements of his actual arm, or elbow, when in Parliament.
That's not to say there weren't valid progressive reasons to criticize Trudeau over the past year. This self-proclaimed feminist let the previous Harper Government's arms sale to Saudi Arabia go through and even relaxed our policy to make it possible.
Meanwhile, the Trudeau Government's attempts to "modernize" the National Energy Board have amounted to nothing more than committees studying problems with no concrete action. The NEB, of course being the organization that Harper had chosen to evaluate pipeline proposals after abolishing the Environmental Assessment Agency.
So, progressive criticisms of Trudeau, until recently, have been focused on Harper policies that the Liberal Government has been ineffective in getting rid of. Not nearly enough to ruin Trudeau's mainstream progressive cred at home, given the fact that his government has made some significant improvements on what the previous administration was doing.
It also hasn't been anywhere close to something that could spoil his rep abroad. I constantly see Facebook friends living in the US and other countries as well as foreign progressive media jealously praising our Prime Minister and wishing he could be their head of state.
I always want to burst the bubble, but then think better of it, because at least his rhetoric is better than what 90% of politicians they have to deal with spout. Fortunately, Jesse Chase wasn't as cautious when he wrote about Canada and our superstar PM in The Guardian.
While I don't think Trudeau's honeymoon with the world will end anytime soon, especially given the nastiness in the US Presidential Election, his sunny ways love-in with progressive Canadians may be about to come to an end. The downfall started when when he clearly stated that a $15/hr minimum wage was not a currrent goal of his administration.
Think about that for a second. This is now part of the official Democratic Party platform in the US. Sure, Bernie Sanders forced the issue and pushed Hillary Clinton in that direction, and there's no proof that she will actually fight for it if elected. But if a corporate centrist running to be leader of a centre-right country can be cajoled into running on a $15/hr minimum wage, then what business does the self-billed progressive global heartthrob leader of a centre-left country have in rejecting it?
It was a long honeymoon for Trudeau, but is it now really over, or at least ending? Does the Emperor now really have no clothes, and not in a fun shirtless selfie kinda way? Maybe.
Dear Mr. Prime Minister
Now, I'd like to shift gears and speak directly to our Prime Minister Justin Trudeau:
Dear Mr. Prime Minister,
Take a look around you, sir. The people turning their back (literally) on you and the people being arrested for getting a little too close to your place of business aren't Conservatives. They aren't even jaded lefties like me who vote NDP, sometimes while holding our noses because the leader is not progressive enough.
These are your people. People who voted for you in hopes that you would change things. They wanted to get rid of Harper and his rhetoric, which you have done, but, most importantly, they wanted to throw his policies away, too, and you, sir, have failed to do that.
Does your feminism include arms sales to Saudi Arabia because it's 2016? Are Kinder-Morgan and Harper's NEB part of your sunny ways? Have you given up on improving the condition of workers in this country? Can you really use your government's popularity as an excuse to backpedal on electoral reform when that popularity seems to be waning, or rather plummeting, among former ardent supporters?
I'll admit I was skeptical of you from the start and I'm sad to report that you have justified my skepticism. I'm a lost cause for you, but it's not too late, though, for you to win back your former voters and live up to the false impression many have of you. It's not that hard, either.
Just make your policies match your rhetoric and you can continue the honeymoon until the next election. Otherwise, the honeymoon's over and things are gonna be kinda awkward before they're downright unpleasant.