Born in Sept-Iles and raised in Quebec, local Verdun artist Katerine Darveau uses her limitless imagination, engineering experience, and natural talent to create some of the most fascinating tableau sculptures and naturally beautifying jewellery imaginable.
Spending her teenage years in solitude, Katerine learned to develop an elaborate imagination, finding refuge in her dreams and spirit, and allowing her to surpass the borders of the average world. Creation has always been an insatiable need for Katerine. Her fascination with science and energy led her to study electrical engineering. After completing her diploma, and working a few years as a Project Director, the desire for artistic freedom could no longer hold her back, and in 2007 she relocated to Montreal to pursue her dreams.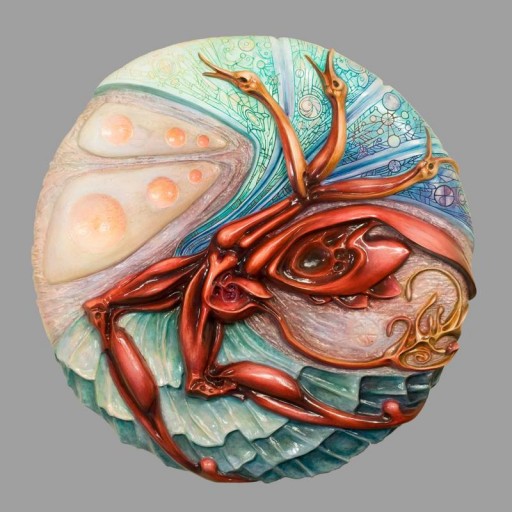 Using her artistic tables as a motor to propel her own inner transformations, Katerine began superimposing her artistic displays and integrating movement in a circular form. This circular support symbolizes totality and completion; the infinite possibilities that open windows into multitudes of parallel universes, where everything is in order, structured, and calculated, creating a perfect equilibrium.
Katerine's work is spiritually enlightening as well as self enhancing, giving us the strength and desire to reach within ourselves to discover and take hold of both who we are and who we would like to become; it allows us to combine both these things, making our spiritual goals promising and attainable.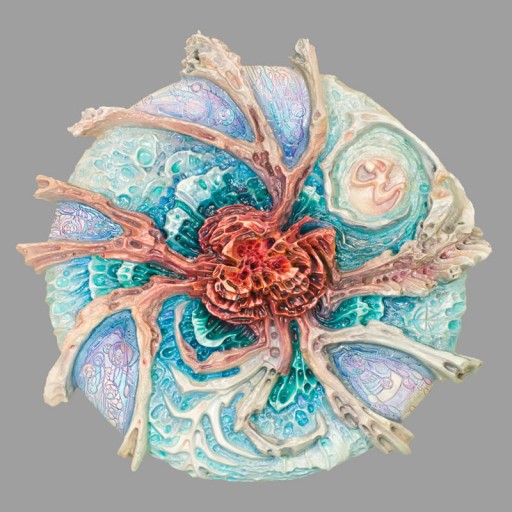 The three dimensional and natural appearance of her artwork is brought upon with the fusion of her imaginative representation of mineral and vegetable textures with animals. Katerine adds intense colour combinations to complement and complete her pieces' purity with energy, thereby bringing the hybrid creations to life. Apart from the aesthetic attention and beauty of her art, she also implants subliminal messages within her work, engraved inconspicuously with her own symbolic language that evolves along with the art itself.
Her work has been displayed at the 2010 Transmorphologie Exposition and at the 2011 Mois de l'Histoire des Noirs, and she was a finalist at the Concours d'Art de la Ville de Quebec at the Musée National des Beaux Arts de Quebec in 2004. Currently, her pieces are displayed at the Fromagerie Copette and Cie, located on Wellington Street in Verdun, and she will be one of the many artists presenting their artwork during the Verdun Sidewalk sale in August.
All photos Courtesy of Katerine Darveau