Kylesa brought their heavy, psychedelically hypnotizing sounds to Il Motore. The genre-defying band from Savannah, Georgia had most of the crowd completely transfixed, trance-like, during their set. The swirling, geometric projection lighting definitely added to the mind-bending atmosphere created by the band's music.
It's really difficult to accurately describe Kylesa's sound. The heavy riffs and bass lines are reminiscent of metal and there's a psychedelic 70s influence in there. Then there are these spacey, dark, electric undertones that feature most prominently on their latest release, Ultraviolet. Songs can go from slow and atmospheric to fast and heavy in seconds. The result is an extremely well crafted, intricately arranged piece of work that translates beautifully to the stage.
For a five-piece, Kylesa have a lot going on instrumentally. Guitarists Phillip Cope and Laura Pleasants share vocal duties. Cope also uses a synthesizer, a Theremin, and an original piece called the skateboard guitar. That last one is exactly what it sounds like: it's a skateboard that a friend of Cope's modified by adding pickups, tuners and strings.
Rounding things out on the low end of the frequency spectrum are bassist Chase Rudeseal and drummers Eric Hernandez and Carl McGinley. That's right: Kylesa has two drummers that each play on their own full kits simultaneously.
The noise is absolutely brutal. Listening to Kylesa perform feels like shooting through outer space in a glass rocket ship.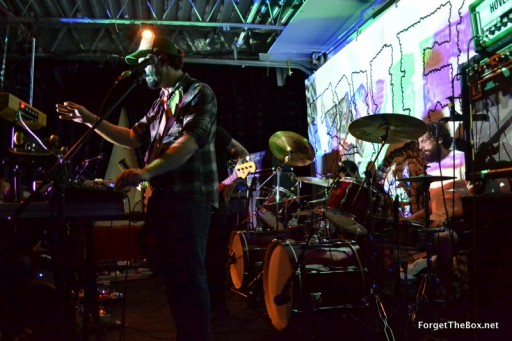 Opening up for the band were the equally talented and deserving Lazer/Wulf, White Hills and Blood Ceremony.
Lazer/Wulf are an instrumental three-piece from Atlanta. They like to pull the most ridiculously hilarious faces while performing their brand of impossibly fast experimental thrash.
White Hills play what they like to call "fuzzed out motorik spacerock." This is a pretty good description of their brand of psychedelic, stoner rock. Interestingly enough, although the band hails from New York City, they've built up more of a following overseas since their inception in the early 00s and have only started touring North America extensively within the last few years.
Blood Ceremony's special brand of occult doom metal really makes you feel like you've traveled back in time. The sound is reminiscent of early Black Sabbath with just a hint of medieval folk: lead singer Alia O'Brien switches between playing the organ and the flute. The highly acclaimed Toronto band has previously toured with Swedish heavy metal band Ghost and stoner/sludge behemoth Electric Wizard.
The three openers, powerhouse bands in their own right, really ensured that you got a big bang for your buck. The resulting show was a very eclectic mix of sounds and a reminder that there are really exciting things happening in the heavy music genre.
*Photos by Bianca David. Check out our Kylesa @ Il Motore album on Facebook for more photos.