Yesterday in Quebec there was a protest. It wasn't about some broad-reaching concept like the Charter, it was about something much more specific and basic: the ability to see family and friends.
Lac-Mégantic, a small town we all know suffered tragedy on a massive international headline-grabbing scale, is now a town divided, literally in half. The disaster zone where a train carrying oil exploded in the centre of town is still very much that.
Residents who want to visit people on the other side of town now face a 10 kilometer detour. The Marois government and even the Federal government have done nothing to fix the situation, so residents have taken matters into their own hands and hit the streets:
"The people of Lac-Mégantic are victims of our collective dependence on fossil fuels," said Green Party leader Alex Tyrrell who attended the protest. "They deserve our full support, and the fact that they are taking to the streets in such large numbers clearly indicates that there is a problem."
There is a nearby bridge, but even though it wasn't damaged in the explosion, people don't have access to it. Some residents have even speculated that it's because the government is in the process of handing out lucrative construction contracts to build a new bridge despite none being needed.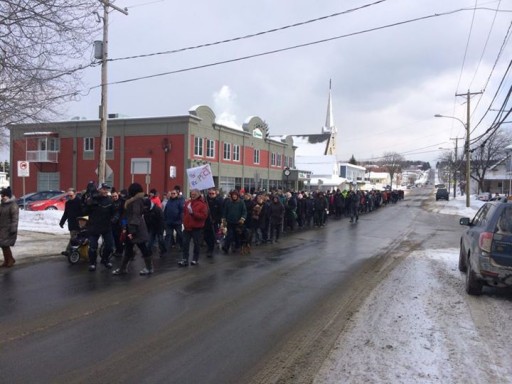 "The provincial government needs to hold meaningful consultations with the citizens," Tyrrell said, emphasizing that officials should pay attention to those "who feel that their opinions are not being considered in the reconstruction and decontamination process."
At the very least, the public should realize that just because the disaster happened months ago, its effects are still being felt by those closest to it and this doesn't have to be the case. If their fight now gets a fraction of the coverage the initial aftermath did, then the government may just do something about their situation.
* Photos and video by Alex Tyrrell