In less than 48 hours, the long weekend will be raring to go, like your overly impatient father circa 1994, who just wants to get the road trip started and doesn't care that you left behind your favourite teddy bear. So tape your fragmented freedom back together, because you've got at least three days to enjoy the fact that Monday morning is a foggy blur at the other end of the Canal. You have all day Friday to sleep in, rest up and re-fuel on Redbull because you'll definitely want to be at Cabaret Playhouse Friday night to party with Four Minutes To Midnight, as they celebrate the launch of their eleventh issue.
Four Minutes To Midnight's eleventh issue is a dual publication, featuring  Happy Hour, the final collection of work by American Poet F.A. Nettelbeck (1950-2011), illustrated by Sophie Jodoin; and  Fugue XI, an epic typographic cut-up poem edited by John W. Stuart, Kevin Lo, Hillary Rexe and Sara McCulloch.
The launch gets underway this Friday, April 22 at Cabaret Playhouse (5656 Ave. du Parc) at 9 pm. Spoken word artists  Moe Clark and Vincent Tinguely will kick things off by reading a selection of Nettelbeck's poems, as well as performing their own work. Once the crowd is buzzing with the power of poetry, Montreal rock trios  Nightwood and  The Lindbergh Line will electrify the room with riveting riffs and blood-pumping vigor.
Founded in 2004 by Kevin Yuen-Kit Lo and John Stuart, Four Minutes To Midnight is a Montreal-based literary arts zine that publishes a spectrum of works bridging poetics and politics. Now, if overwhelmed with ambition, one could probably build a cloud grazing tower constructed solely out of Montreal-based zines, but Four Minutes To Midnight undoubtedly stands apart from the rest with its art-strewn pages, innovative typography, creative graphic design, experimental format and social awareness.  The press release states: "Based in the firm belief that the personal is political, the zine explores the possibility for small stories, 'bad' poetry, vast dreams and private pains as a means of advancing social change."
Four Minutes to Midnight also acts as a platform firmly rooted in Montreal's community arts scene. Come out Friday and celebrate the life and poetry of F.A. Nettelbeck, while supporting the local independent art and publishing community.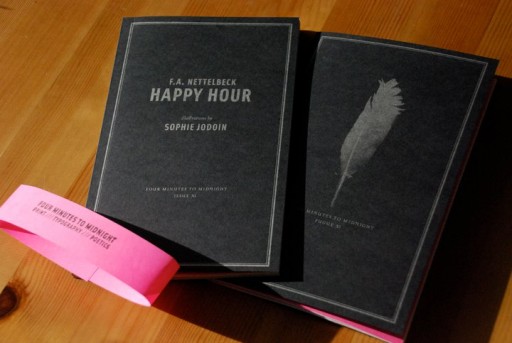 Party-party-party!
Cover is $8 at the door, or $15 with a copy of the issue.
"I'm pretty burned out on meat poetry or street poetry or poetry of the down-and-out, whatever you want to call it, because so much of it is bullshit; bogus motherfuckers who never shed blood… but Happy Hour is the real thing. Stark precision. It's stripped down, bare bones authentic."
— JOHN BENNETT
"if Jesus wouldn't do it /there must be something to it"
— F.A. NETTELBECK