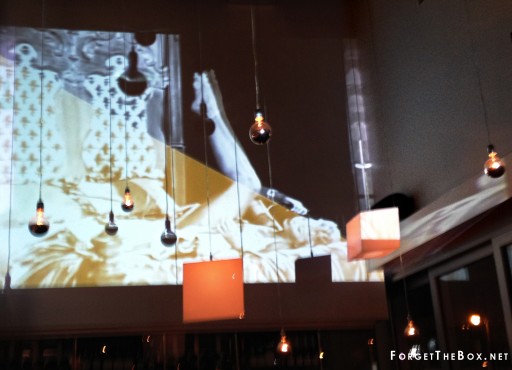 Through the generations the face of the Main has certainly changed, degraded and revamped. Just in the last decade, the corner of St-Laurent and Ste-Catherine Streets has gotten a make-over, and in some respects is still getting work done. Some buildings have been torn down, while constituents petitioned and fought with all their might to make sure establishment like the Montreal Pool Room and the Café Cléopâtre stood their ground. Major holes were dug up, patched-up and re-paved to make way for new developments within the entertainment district. The Quartier des spectacles now has a glamed up exterior and decor similar to the Place des arts, but all this has brought-in some new faces to the 'hood.
Once known as Montreal's red-light district, this reputable street corner is now home to La Vitrine – the one-stop ticket-window for most of your cultural and entertainment needs, where you can plan an outing or check out the last minute tickets that are available at a discount. In the same building, a new restaurant opened its doors – named after Lili St. Cyr, the most famous woman in Montreal in the 1940s and 50s. Lili was known for her beauty and burlesque shows, as well as her immoral, obscene and indecent behaviour, given the very catholic climate that ruled Quebec at the time. Times have changed, some people are not as uptight and Montreal's joie de vivre cannot be satiated, especially with indulgence staring at us right in the face.
The St. Cyr notes the contrast from the classic style of the 40s and 50s with a clean modern twist with French cuisine that borders on Mediterranean flavours, with citrus and herbs to showcase some of the province's best ingredients. The restaurant located in the 2-22 building, offers three different areas that aim to please and tease in any situation, from a sexy cocktail in their lounge, to linger over an tempting menu or simply just drop in for a quick bite before or after a show.
On opening night, dimly lit with hanging glistening lights, this new venue was packed and rightfully so. Greeted with bright smiles, a glass of wine and a few amuse-gueules at the front bar, the evening was off to a good start. Plates of miniature samplings of St. Cyr's menu paraded around the dining room before flying off into peoples mouths. I can't blame them; the bites were delicious, well put together and tested true to a certain quality that is not easy to pull off given a hungry finicky crowd of critics of all sorts. Displayed above the glass encased wine cellar, the black and white projections of Ms. St. Cyr and vintage images of the Main from way back when, reminded us that the corner of St-Laurent and Ste-Catherine has been through many ups and downs that have transformed the face of culture many times over.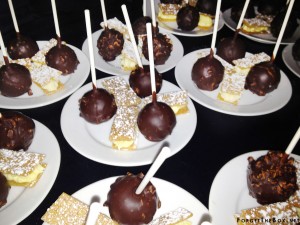 If the Magdalen Island scallops – with the pinkish-orange coral still attached and intact (a rarerity it seems these days) – with the delicate cider zephir are any indication of the quality, inspiration and deliciousness of the Chef's savoir-faire in the kitchen, then I would say this to you: Grab your main squeeze or round-up some of your peeps and head out for a night on the town for dinner, drinks and a show. With satiated palates, who knows where the night may lead you…
——-
Le St. Cyr
www.lestcyr.com | Facebook
22 Ste-Catherine Street East
Montreal, Québec.
514.587.6222.