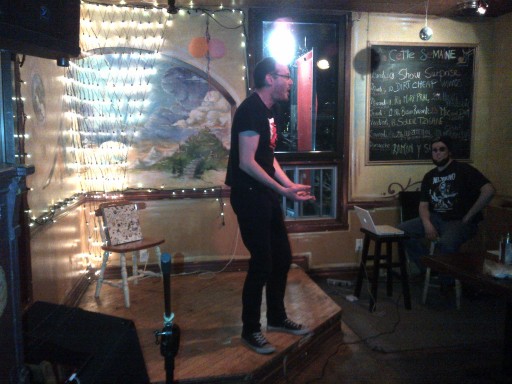 Leadbelly is the grandfather of heavy metal. I had no idea. Nor did I realize how derivative Led Zeppelin was. Nor, frankly, had I ever given Zeppelin much thought at all beyond contemplating Stairway lyrics in angsty teenaged basements.
I had wondered why there was no A in their Led, and now that I know, I'm keeping it to myself on principle. As to their name, it was predicted they would crash and burn like one. And did you know that's the Hindenburg on their first album cover? No, I'd never noticed how phallic, but now that you mention it…
My crash course in Led Zeppelin came in the form of Théâtre Sans Fond/Stadium Tour's Zeppelin c't'un cover band! / Zeppelin Was a Cover Band! this past Saturday at l'Escalier, as Stéfan Cédilot regaled the crowd with his knack for story-telling and equally compelling air guitar. Within the first few minutes I could feel myself begin to care about the near mythical tale of a band that was little more than a school dance slow song in my lifetime.
Truth be told, I went in realizing how very little I knew about the band's (pretty well plagiarized) music let alone the players themselves (whereas I'm a veritable Rainwoman on the subject of The Doors, I assure you). Still, as is the case with most legends in hindsight, the pieces fit together like a pre-planned plotline to musical and popular infamy. And who doesn't like a good story? People who hate kittens, that's who.
They first did the show at Fringe back in 2007 and its longevity, while longer than a lot of bands these days, is no surprise; the audience tapped toes, laughed, learned and couldn't help but think "really? who knew?" at least a few times (anonymous Zepplin albums? I never woulda guessed…).
Stéfan and Ben "Benzo" Kalman have banter that seems genuinely casual and spontaneous, though I'm fairly certain they could do the whole thing in their sleep and Stéfan could probably hum every note if the stereo crapped out. Stéfan's passion for music is impossible to ignore and it smacks of the geeky, detail-oriented passion that will have people looking back on his body of work one day with slack-jawed wonder.
We caught the French show, and as a functionally bilingual group with only one legit bilingue among us, we were pretty pleased with ourselves for following every word and grateful to Stéfan for his accent and timing.
A quick word about L'Escalier: I love it there. I loved it for years as L'Utopik, and I'm thrilled that the place continues to thrive as a daydream come to life mere steps away from Berri Square. Admittedly, I don't get out there as much as I would like to. I would like to inadvertently take up residence there — L'Escalier, not Berri Square — and by the time they notice me, I've become an inextricable part, as necessary to the space as it is to me).
I tell you this so that you'll understand when I tell you that it's the kind of perfect gem I'm reluctant to tell people about, lest it get ruined by loud cell phone convos and distracted, shallow people. BUT I love it so much that I wish the place endless success, and so I think you should totally go — and spend wild amounts of money there (besides, if you're reading FTB you're probably a fantastic, beautiful, stylish person of depth and quality. That's how we roll).
If you missed it, fear not, the boys will be bringing the goods again this Saturday, in English, at Burritoville (which I hear is quite a tasty place). It's serving as a fundraiser for their upcoming Fringe show Vicious Circles, which aims to answer the question "what is punk?" Given that it will be based on Johnny Rotten and Sid & Nancy, we can safely assume that the "punk" in question has nothing to do with a jar of Manic Panic and unscuffed boots bought in a suburban shopping mall.
The tagline reads that Vicious Circles will be "a meta-euphoric and surrealist-psychedelic tale" which sounds fricken' great. Ben compiled the soundtrack and wrote the script, while Stéfan Cédilot directs "all the resulting chaos" assisted by my good buddy, and party icon in his own right, Jason McCullough.
Zepplin Was a Cover Band happens in English, this Saturday, one night only. The deets are right over here. Catch it. You'll be glad you did.