Ever been to a show where the audience actually claps along all the way through a song without awkwardly fading out part way through? The highly enthusiastic and loyal fans at the LeE HARVeY OsMOND show on Friday night clapped right to the last note and it was magical.
LHO rocked out to a full house at The Great Hall, playing with a killer band including Ray Farrugia (drums) Brent Titcomb (percussion, harmonica), John Diamond (bass), Aaron Goldstein (pedal steel, guitar) and Jesse O'Brien on keyboards and also including distinguished guests Oh Susanna, Colin Linden (Blackie and the Rodeo Kings), Paul Reddick, Gary Craig, Michael Timmins (Cowboy Junkies) and Andy Maize (Skydiggers).
The set was non-stop, high octane acid folk rock with a country flare.  LHO brought out the guests and the opening band Harlan Pepper for an encore which featured a makeshift shaker made from a container of Magic Powder.  Yes, I said Magic Powder.
It's been a busy week for Lee.  A heavyweight in the Canadian music industry himself, he, along with Colin Linden, inducted Colin James into the Canadian Music Industry Hall of Fame on Thursday night.
Supporting his friends is a characteristic trait of this big-hearted rocker. And not just his friends. The band, promoting World Vision, offered anyone who made a donation after the show a free CD.
"Charity begins at home," a motto to live by, are wise words offered up by Lee himself. The spirit of helping others is very much ingrained in the music culture of Hamilton, Ontario, where Lee lives.  In a pre-show interview, he explained how he naturally wanted to include the people who had contributed to the recording of the group's latest album, Folk Sinner, in the show because people were excited about it and he wanted them to be a part of the live experience as well.
You've got a lot of friends joining you for the show.  How did you swing that?
I just picked up the phone and called and they were people that were really into being part of the record and being a part of the LeE HARVeY OsMOND experience. As a result, I'd like to get them not only out to Toronto, but to other places in Canada. I'd like to have Oh Susanna come out and do Big Chief with me and Andy Maize come out and do Devil's Load. Colin Linden come and play guitar and sing.
It's an important thing for people to come out and see. The energy of the people involved in the show. It makes it a way more fun experience when you see people interacting. We lost for a long time people interacting musically and artistically and we're getting that back so I want my energy to be attached to other people's really amazing energy.
Where did the name LeE HARVeY OsMOND come from?
We did a song for an album called the Kennedy Suite that Michael Timmins (Cowboy Junkies guitarist) was producing. It's an album that features Ron Sexsmith and the Cowboy Junkies, Hawksley Workman and others.  I was asked to do a song and when it was done he said, "okay so I can put this under the name Tom Wilson," and I said, "no, let's actually use the name Lee Harvey Osmond that I've always wanted to use."
It was perfect because the album is all songs based on the day that JKF was killed. I thought that was a perfect name. And then Michael asked me after that to come back and do more recording and I had some time on my hands because Colin Linden (a member, with Tom, of Blackie and the Rodeo Kings) was out playing guitar with Emmylou Harris. So we made this LeE HARVeY OsMOND record that I've always wanted to make.
Why do you capitalize some of the letters and not others.
I don't know. I thought it looked good that way. I remember years ago whenever k.d. lang had a billing, you weren't allowed to type her name on any kind of billing. You always had to use a little drawn k.d. lang logo and I always really liked that. I thought it was really smart marketing. So I thought that I would use that when we were doing LeE HARVeY OsMOND so that people like you would come along and ask the question, which I don't really have an answer for.
With the album Folk Sinner, can you comment on who you think this would appeal to and what your goals were when making the album?
The Folk Sinner is more of a meditation than it is a record. It's not something that would necessarily fit in with the current playlist at CBC. But somehow it does. I think the quality of what we're doing is just good enough that people really get what we're doing.
Once again it's tones, the use of bottom end, something that we lose the further north you get. You go to Louisiana, the birth of jazz, they used tubas for the bass. Bottom end was always a big part of soul music, R&B and blues and the further north you go, the thinner the records get and we wanted to establish the idea that big bottom end was a really good vehicle for great songs.
We feel like we came up with really great songs that were based off of tones.  Tones and bass lines that I wrote over.
With the songs on the albums, where do the stories and the inspiration come from?
Love mostly. It's funny. I know that CBC had meetings about my record and they said that both my records are awfully dark. They're actually just love journeys.  Love isn't necessarily puppy dogs and rainbows.
Oh, it's not?
No. Love can slap you right back, you know? And there's different ways of love. There's ways of reaching out and showing love that aren't about Valentine's day. They're about day to day experiences and people don't want to face day to day experiences all the time.
I understand this is your first show to promote Folk Sinner.
This is really the first show for LeE HARVeY OsMOND to promote Folk Sinner.
What are you hoping for or expecting from this experience?
Just the sharing of energy. The wealth of talent and energy that we're putting on stage. I'd like to share that and be a part of that.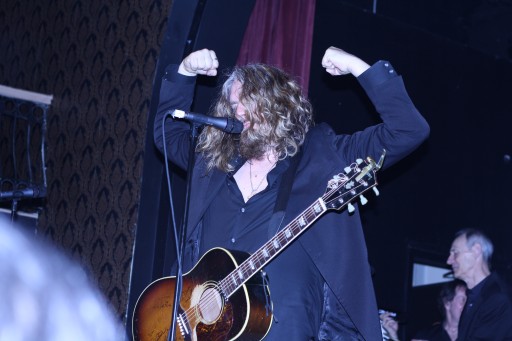 Their "Break Your Body" video was recorded at Music City Roots live on February 13, 2013:
Hear "Devil's Load" on SoundCloud