A sea of pink flooded the National Mall in Washington D.C. on January 21st, 2017. Overwhelming chants of, "Welcome to your first day, we will not go away!" and more humorous, "We want a leader, not a creepy tweeter!" were audible from the White House and around the world.
Organizers of the Women's March on Washington anticipated 200 000 participants; they got half a million – as many as Woodstock. Too many for the planned march to actually take place.
Globally, as many as 5 million people marched in solidarity with the women of America against the proposed policies of the nascent Trump administration. By some accounts, it was the biggest protest in US history.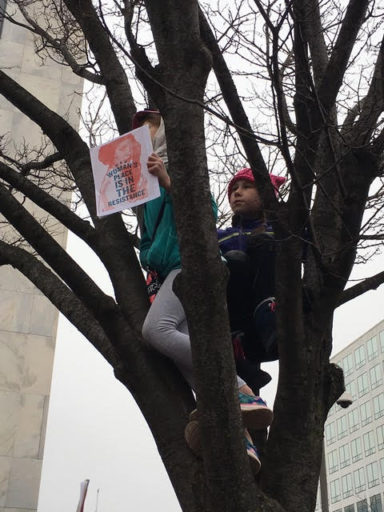 Donald Trump has vowed to defund Planned Parenthood and other organizations, both foreign and domestic, that fund and promote women's reproductive health. He has promised to roll back sex education and promote abstinence; he has normalized sexual violence, demonized members of the LGBTQ community and has thumbed his nose at the gender pay gap. Not to mention all the nasty things he has said about women. What's next buddy, our right to vote?
However, "Women's Issues" do not exist in a vacuum, and most issues are women's. To quote a speaker at the Women's March, "You want to discuss woman's issues? So, you want to talk about the economy?"
Our concerns transcend our gender identities. Women's issues are intersectional, nobody is just a woman and nothing else. Because many of us are immigrants and fear deportation and loss of family, we marched for that, because we are queer, of colour and differently abled, working class and social services users, air breathers, water drinkers and environmental lovers. Because we are mothers, trans, Muslim and atheist, we marched against Trump's far-reaching promises to harm us all.
It was a beautiful sight to behold. I cried more than twice. A love army composed of privates from all walks of life, shades, creeds and beliefs marching together in solidarity for a brighter and more inclusive future.
This all sounds good, right? Who among the left wouldn't want a safer and fairer America. Isn't that what we have all been fighting for after all? Who wouldn't support a cause dedicated to protecting our fellow sisters and brothers?
There are many valid critiques of the contemporary feminist movement, such as those of the lack of intersectionality i.e. white and ablest feminism, trans-exclusionary feminism, and sex-worker exclusionary feminism, among others. These discussions are welcomed, constructive and necessary for our collective growth. So is the lack of indigenous representation at the march.
However, it seems as if progressive (North) America is still deeply divided along lines that are not so productive and ultimately cannibalizing. A sour flavour of activist shaming is rearing its ugly head from within.
I was disturbed by some comments I saw on my Facebook feed the day of the March. Comments such as: "Wow. Wouldn't it be great if people protested in the same numbers for clean water on First Nation reserves as when they protest a foreign leader?" and "You can march, you can wear that pink pussy hat you knitted…but here's the thing: Donald Trump will still be the President of the USA. Today, and tomorrow, and the day after that. So until people start examining the root causes of the problems that led U.S. citizens to this choice, nothing is going to be effective." Really?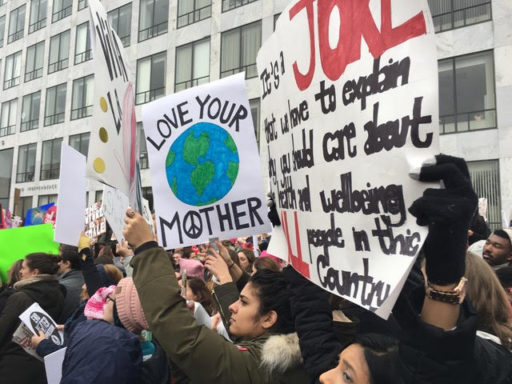 I admit that I am a white woman and carry that privilege. The people I just quoted, though, carry the same white privilege.
Their comments and others like them are nothing other than left on left activist shaming. Bullying. These internal critics seem to believe that there is one right way to be a progressive political activist, their way. Shaming people for actively participating in democracy, for pulling themselves away from Netflix and paying their way to fight for a cause that is important to them, should not be tolerated. These attitudes are counter-productive. They feed division and hurt people who should be your allies.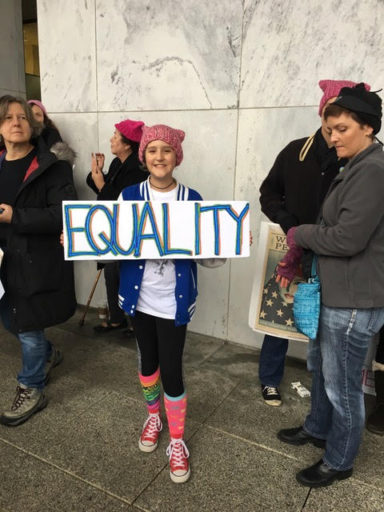 Nobody can do it all. All we can do as activists is fight as hard as we can. Many of us would like to do it all, (I know I would) but inevitably we are doomed to fall short.
As members of the human species, we suffer from the unconquerable afflictions of limited energy, time and means, so we must prioritize what lights the fire in our bellies. We must decide which causes are important to us.
Whether an injustice affects you personally or indirectly, if you care about it, you go! You do you, as long are you are doing good and not harm, don't let anyone ever tell you are doing good wrong.
Hilary Clinton was right about one thing; we are stronger together. Unthoughtful and petty shaming of our fellow activists for volunteering their energies to one cause over another only leads to further divisions in an already balkanized left.
I am not proposing that everyone always agree with the nuances or particulars of the tactics used toward a given cause. I am only asking that people stand back and take a good look at the bigger picture and get over their egos. I implore my fellow lefties to ask, what is the end goal, and do I support it? In the case of the Women's March, the goal is equality for all. Now what kind of progressive cannot get behind that?