François Legault is a man without an official party, whose political career has been more or less stalled since he left the PQ   two years ago after a parting of company with current péquiste mistress Pauline Marois, among others, over the sovereignty question. So why are the media and much of the general public, especially in Québec, so smitten with him?
The main reason seems to be the ambition of his Coalition pour l'avenir de Québec (CAQ), an ostensibly centrist party that he co-founded with business man and aspiring politician Charles Sirois, back in February of last year. The manifesto of the future party (it has yet to register) states that it is neither left nor right and makes several points about the state of the Québec economy, education system & health care system, but pointedly makes no mention of the federalist vs. sovereigntist debate that has been a political albatross around the proverbial necks of Quebeckers at least since the 1960's.
Another factor in his shockingly high approval rating is no doubt the growing leadership vacuum in this province, which seems to get worse by the day.   Charest's scandal woes are simply too extensive to be mentioned here, while Marois looks rather like the captain of the Titanic at the moment, desperately pretending that everything is alright as her own party deserts her! Amir Khadir's personal popularity remains high, but doesn't seem to be translating into more than the low teens for his party, Quebec Solidaire. Finally we have the ADQ whose leader (using the term loosely here), Gérald Deltell, is among the most forgettable this province has ever seen. By comparison, Legault's competent bank manager image is downright reassuring to folks.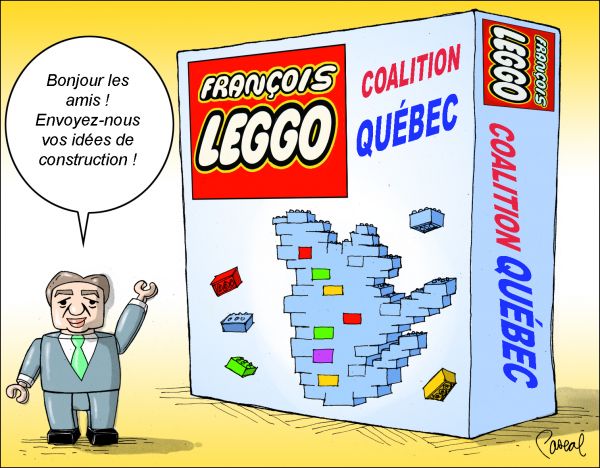 However, a closer inspection of certain CAQ policies, and statements made by Legault, would suggest that he is much more to the right than he lets on.   Consider that he told a Maclean's reporter (on July 11) that organized labour (or 'pressure groups') had captured both major parties in La vielle capital, leading to what he describes as a vicious circle situation. Or that his plan for reforming the education system includes shutting down local school boards and giving teachers the sack if they don't live up to government set performance standards. And the best may be yet to come. The CAQ has promised to release its much anticipated cultural program soon, which is rumoured to contain an attack on Canadian multiculturalism & official bilingualism!
Quebeckers have been in a gambling mood lately, politically speaking. But they would be wise to look before they leap onto the CAQ bandwagon next provincial election, only to wake up the next morning with a bad hangover and a premier whose politics are much closer to Alberta's than their own.