Student politics may not seem like the most interesting of 'current affairs' to follow. That's understandable. After all, if you are not a student, a lot of the things that students care about don't really matter to you. That can be contested, however.
I have two strands of student politics in mind. One of them actually takes place within campuses, with elected student representatives doing their business. There is, however, a broader sphere of student politics, which actually involves lobbying governments, provincial and even federal.
Let us focus on the federal level for today, because what is happening right now is some Westeros-level political intrigue. The Canadian Federation of Students (CFS) is the largest student association in Canada. Basically, student unions from universities are able to become members of CFS; just like how individual labour unions can unite under a larger confederacy. From the Pacific to the Atlantic, 81 student unions are members of CFS; but here's the kicker, not all of them want to be members anymore.
What usually happens, if you feel like you want to stop being a member of a federation? If you are a large union yourself, you hold a referendum, asking your constituency, "Hey, do we want to keep on being members of this thing?" Your constituency says either yay or nay, and then you go on your merry way.
See, that's not how CFS rolls. In CFS, first you need to hold a petition, collecting hand-written signatures of 20 per cent of your members. Then, you need to send this document full of hand-written signatures to CFS, where CFS will count the number of signatures, and determine whether or not the signatures are 'legible.' That is, if they receive the petition and that it doesn't get 'lost.'
Anywhere during this, CFS may just declare your petition to be invalid on any of the reasons I've stated above. In the case of McGill University's Post-graduate Students' Society (PGSS) – the case I'm most familiar with – the invalidation of the petition was brought to the Quebec Superior Court; where the judge presiding compared the situation to a 'bad marriage.'
But that's not all! Even if you manage to get the petition in, and force CFS to recognise its validity, holding a membership referendum itself is extremely restricted. Everything and anything that the people campaigning to leave CFS say must actually be approved by a CFS appointed overseer before it's released to the public. The rules of the game are set by CFS. If there is any violation, CFS will declare the referendum invalid. And then, you cannot petition for a referendum for another five years!
(Also, PGSS is holding a referendum this week. Took them roughly five years to get here.)
I'll get to the financial aspect of this entire spiel momentarily.
On their website, CFS says that there are four student unions in Quebec that are its members. What it doesn't say is that all four of them are struggling really hard, or have been lucky enough to leave CFS. Concordia's student unions also are struggling with CFS, and they're in much more of a pickle than PGSS.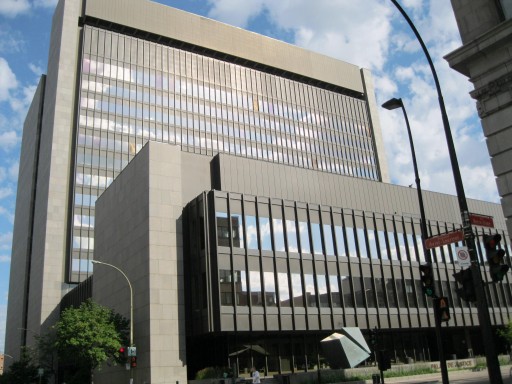 The University of Toronto's Graduate Student Union (UTGSU) also tried to leave CFS, and last November they held their own referendum. Allegedly, 66 per cent of the eligible voters voted no to CFS, but they failed to meet the quorum of 1606 people, by seven people. Because seven people failed to vote, UTGSU cannot hold a referendum for another five years.
There are a bunch of other examples, but I'm not gonna bore you with details. You can find details here, and here if you want to be bored, or if you are genuinely curious about this, for which I thank you.
What does that mean? I promised I'd talk about finances, so here's finances. CFS charges its member unions $13 per student per year. UTGSU has roughly 16 000 members. That makes $208 000 per year. UTGSU cannot hold another referendum for five years. The cost of failing to leave CFS, therefore, is $1 040 000.
But wait, there's more! I mentioned before that some student unions take this to the court. You can imagine, easily, that legal fees for running years long legal battles against a federation the size of a medium city (CFS has a total of roughly 1.5 million students under its umbrella). Conversely, CFS also needs to pay legal fees. Where does that money come from? That's right! The very students they are suing!
But why do student unions want to leave CFS? What the hell is wrong with it? To be perfectly fair, CFS does have some interesting campaigns. For instance, they have a campaign called "Let People Vote," which essentially involves CFS lobbying against the federal Bill C-23. Bill C-23 is law now, so clearly their lobbying did not work – perhaps, along with other reasons, but still.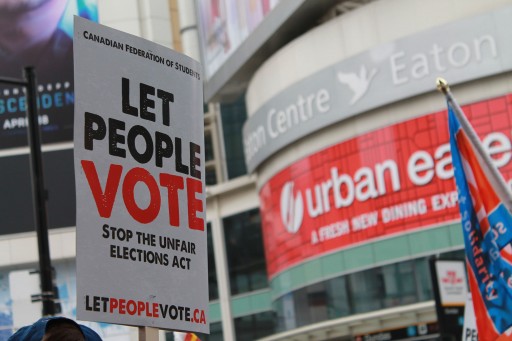 I'm just going to give you a few seconds to let the irony of having a campaign called "Let People Vote" while making it extremely difficult for people to hold referendums sink in.
Going back to Quebec in specific, CFS has not been active in la Belle Province since 2010. That year was crazy in terms of CFS politics, because some internal leadership disputes caused the provincial wing of CFS – aptly called CFS-Quebec – to leave CFS. Or rather CFS disowned CFS-Q. Or perhaps CFS-Q transformed into something called Rassemblement des associations etudiantes? It was more or less all of this.
CFS did create a new Quebec wing, however the actual members from Quebec (namely Dawson Students' Union, Concordia Students' Union, Concordia Graduate Students' Association, and PGSS) were not part of this new wing. So there was no Quebec representation in the National General Meeting of CFS.
Also, CFS has a national general meeting, where they make decisions about the regulations regarding leaving CFS. With no Quebec representation, it's obvious why problems may arise.
I'll cut to the chase. If this was about the small labour unions or local political parties trying to leave their federal umbrella organizations, but actively denied their right to free association (that is, freedom to become or stop being a member of any organization/club/whatever of your desire), it would make top news – political party more so than the labour union, but I digress.
There are unimaginable political games happening within the realm of student politics, and it is mostly going under the radar. If these stories ever appear in mainstream media, they are treated as trivial. In fact, CFS still retains its title as the 'legitimate' voice of student concerns on a federal level, yet with all these legal battles against it, its lack of accountability, and overall shadiness shows to me that it should be otherwise.