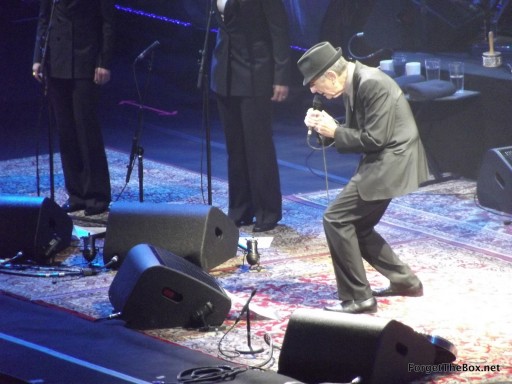 Dipped myself in a future night
like a long-armed candle-maker
Came back too gross for love
Useless as I seem in my coat of greed
I will have an unborn woman
when I am only print
–Leonard Cohen, A Future Night
I don't have a Bucket List. Sure, there are an infinite number of things I hope to, long to, don't-even-know-yet-that-I-want-to do, and a finite amount of resources — time being the slipperiest — with which to do it all, so I see how a list could help the To-Do types stay focused and feel accomplished along this strange meandering trip. Personally, I'm disorganized all around and cynical at the edges with no desire to aim at the unattainable, and no room for disappointment, so the whole thing starts disintegrating.
That is until I had my Leonard Cohen tickets; I realized then that secretly, tucked away in the recesses of my mind, I do have a silent Bucket List, and seeing Leonard Cohen live is on it.
As a Montrealer, a painful romantic, a lit-nerd, a poet, Leonard Cohen is my Patron Saint. As a woman, he's an embodiement of all that is sexy about writers, slow speaking, passionate over-thinkers trying to outrun death on love's wings. The perfect dirty old man, long before he was old. His story is an unlikely one: privileged Westmount boy turned writer, eventual musician, ordained Buddhist monk, heart always emblazoned on his sleeve. It's hard to imagine him as anything other than he is now, near impossible to imagine him among Montreal snowflakes and dark streets in the anonymity of his youth. As it should be, the journey is the texture of his art, part of the magic of his legend.
I remember plainly the first time that I heard Suzanne; I don't know that it was the actual first time, but that afternoon amid crates of vinyl, I remember feeling that song strike me, strike a chord that at 17 I was certain I only half understood. In light of the impetuous arrogance of adolescence, that very thought was one of humility.
If LC were to go L.Ron Hubbard, I would sign right up.
Standing in the first really good chill of the season, waiting for the doors to open, I'm giddy. So much so that before we're even inside, I've had to talk myself out of buying an LC fedora for $20 off a hawker, and am pleased with my responsible decision of only bringing some money. Because I want to buy the shit out of this moment: I want to wear it, drink it, touch it in my pocket later, hang it on my wall, and Cohen's merch people knew it. Coffee mugs, tote bags, embossed Moleskins, cuff links, it was a formidable display of some of the most creative merch I've ever seen. And while we're talking big ticket items, it seems that the Bell Centre has a 3rd beer size for some events, and yes, a 15$ plastic cup o'beer does do the job better than it's cheaper counterparts. Yowzas; and the show hasn't even started yet.
No opening band, no hype, just a well dressed shadow running jauntily to center stage, and at first I thought it couldn't be him; 78 year olds don't move that way, but blessedly, they can. We rose in the first of countless ovations, more than I've ever seen at one show, and appropriately so. There was enough standing and sitting to mistake it for a house of worship, a hushed reverence every time he opened his mouth. This was balanced, with whoops at all the right spots, right on cue as is I'm sure the standard. Frankly, it seems it was a near replica of the performance the night before according to review, with the addition of a french song that got yet another standing ovation. The replay doesn't dull the shine for me one bit. In an age of few and crumbling tried and true living idols, it is all too rare that we get to properly bask. The woman next to me and myself both sand along periodically, thankfully in key with one another, but careful always to sing softly, a trend across the centre in which at times and against odds, you could've heard a pin drop.
Being the formidable Mr. Cohen, he can and does surround himself with world class musicians and from the Webb Sisters, to Javier Mas, the stage  was literally jammed with soul and talent from end to end. It's no surprise that I cried more than I ever have at a concert. I cry at smooshy commercials (thanks, Canadian Tire) and this was so much bigger than that. I kept reminding myself to breathe, appropriate in the presence of this monk who fell to his knees with the ease and frequency of a man as intimate with his yoga mat as with bare souled surrender and devotion  under the beautiful weight of the stars. May we all grow limber and lusty with age.
It was a dream come true to feel the clear, dark, resonance of his voice in real time, to be part of the singularity of that show at that moment, the night he sang "I'll examine every precious inch of you" and that he hadn't "come home here to fool you". The intimacy of concerts as a shared and singular event may be compared to the space shared with someone who catches your breath, like coffee and secrets till sunrise or a one night whirlwind. Which I guess makes touring like an endless string of one night stands in which there are no misunderstandings, which, for a poet like Leonard, is an ideal way to keep the ink flowing. A graceful, humble, stylish man in an ever present suit, a man who can dance the sultry tension between passion and death to the end of time. Easily.
Perhaps I will put that Bucket List together, after all.