Lesbian Speed Date from Hell is a true horror comedy. Following a successful run at the Mainline Theatre as part of Off- JFL/Zoofest, it's back as part of Montreal Pride's official programming. Presented by Pride along with Christina Saliba, the show is funny and scary, and for abuse survivors, it can be triggering.
The play revolves around Jackie (Katharine King So), a young lesbian who is grudgingly attending a speed dating event hosted by her friend and neighbor Regina (Kathy Slamen). Regina is your typical lesbian cougar. In case you had any doubts, Slamen's costumes consist of mostly of leopard print, and her portrayal is a hilarious mix of sassy, maternal, and raunchy.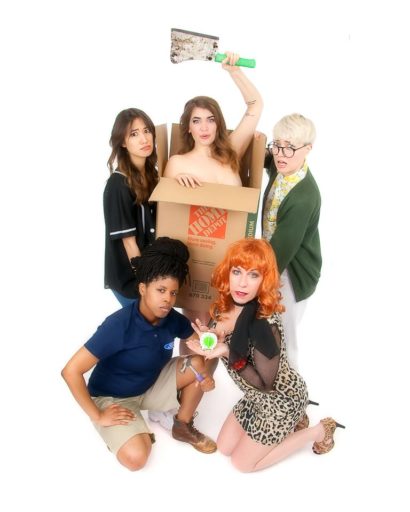 At the event, Jackie meets Amy (Martha Graham), an awkward blonde, Natalie (Alexandra Laferriere), a beautiful black lesbian jonesing for Regina, Kyle (Jeroem Lindeman), a stereotypical dudebro and Ashley (Kate Hammer), a former one-night stand of Jackie's with a big grudge.
What follows is a display of awkward conversations, hilarious facial expressions, and uncomfortable torture scenes.
Hammer's portrayal of Ashley is at once horrific and riveting. All the time she's on stage you never doubt her anger, her malice, or her psychosis. Her madness is believable yet just over the top enough to keep the play from being too real.
King So's Jackie is a perfect foil for Ashley's crazy. Her screams are bone-chillingly realistic and her fear and outrage appropriate.
Survivors of abuse will likely find the interaction between Jackie and Ashley uncomfortably triggering as there is blood and violence and accurate portrayals of pain. But there is enough humour in the play to balance it out.
The fight choreography is hilariously done in slow motion and with more courtesy than one would expect in a struggle between a psychotic murderer and a desperate victim. There are murder mystery clichés like the strategic use of on and off lighting, and Jeroen Lindeman's Kyle is amusingly obnoxious and a reminder of why our culture needs more feminist entertainment like this.
That said, if you're an abuse survivor go in prepared to be a little uncomfortable and reassure yourself that with the horror comes plenty to laugh about. For everyone else, be prepared to laugh, cry, and gasp in horror.
It's an emotional rollercoaster of a show, but it's worth it.
Lesbian Speed Date From Hell runs until August 16, tickets available through Montreal Pride