Why is "pop" a bad word in Montreal (unless you're talking about POP Montreal)?  Sometimes I feel like Montreal is Bill Clinton and pop music is Monica Lewinski you secretly love it, but when it's right in your face you pretend it's no good. That's the way this city rolls, and that's the way it's always going to roll. Montreal has this dark love for the weird and tortured.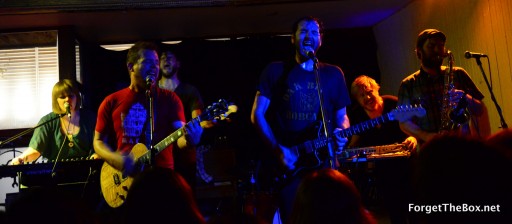 Okay, yeah I know I'm generalizing. Anyway, let's talk about Library Voices and the wicked show they put on at Casa del Popolo. It was probably better than Bill Clinton and Monica's shared cigar.
Library Voices hail from one of the most underrated cities in Canada: Regina. In the last two years there have been more popular artists emerging from Saskatchewan than any other province.  Think Rah Rah, Sheep Dogs and others. I wonder if it has anything to with provincial arts grants. If that's the case, keep the grants coming because these bands are  bringing the  kids out to the  shows. And the kids? They know all the words to the songs.
Seriously,  Library Voices packed Casa with a bunch of untarnished hot young  females, who mouthed every word to every song, and joyfully danced with every cord. How many pop bands do you know that have packed Casa with a bunch of young, hot females? I don't think I can soberly remember one, unless it was for POP Montreal or M for Montreal… even then I stand by the sober comment, and then again I don't think the girls were young or hot.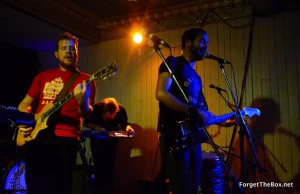 Now let's talk about the music at the show. Library Voices managed to play a collection of songs off of all three of their albums: Hunting Ghosts (& Other Collected Shorts) (2008), Denim on Denim (2010) and Summer of Lust (2011). They didn't really
seem up for chit-chatting with the audience, which is fine, because they jumped head first into every song as all the girls admiringly stared up at them hoping to make eye contact – just one glance…
just one glance – I'm sure that's what was going through these girls heads.
I think I was probably the oldest girl there…but then again I look 19…so, I don't really care. I also don't really care because for the last three months  I've spent about 17 hours a week listening to Library Voices. Why? Because their snarky lyrics happily mock our modern lifestyles, and dance with what life was like before we owned iPhones, had Facebook and sent 4am  texts looking to hook-up with that one  person whose number you "only  remember" when intoxicated. Do you remember the days before iPhones and Facebook? Distant past my friend, distant past.
To cap off the  show two members jumped into the crowd, drums in hand, and headed for the back. One crawled on a stool close to the bar, and the other jumped on a chair – both boys now towering over the audience.  Once in position they started heavily beating on the drums calling to the other members, who were now  in a straight line  at the edge of the stage faceing us.  Then all of sudden Library Voices broke out into  John Lennon's, Oh Yoko. Oh yea, the girls were melting; eyes locked and hearts dropping for sure.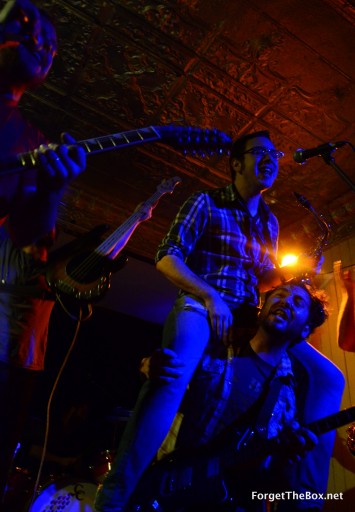 After it was done, we wanted more and demanded an encore. An encore for pop band in Montreal? Yea dude…that happened, and all I can say is that it was probably 'liked' more than your best Facebook profile picture. BOOM. Bechta Monica Lewinski never got an encore. Not sure about her Facebook profile picture,  Lewinksi and I aren't  friends on Facebook.
Anyway! Check out Library Voices, follow them on Tumblr (tour schedule listed on Tumblr too), and buy Summer of Lust. I don't know about you, but  I love a sweet, fun and non-stop show. It's better than that sappy crap, where the band won't shut up about their last show or their most recent tragedy that you know is embellished for the sake of entertainment, sorry – art?
For more pics from the show check'em out over on our Facebook page! Photos & video by Chris Zacchia
Generation Handclap by Library Voices by 1000songs