Featured image by Leslie Schacter. 
Life can veer towards the awful, and almost everyone has a sad, awkward, or otherwise distressing story to prove it. For Keith Waterfield and Leighland Beckman, co-hosts of the live comedy talk show Life Lessons, the obvious way to get through it is with laughter. I got to sit down with Keith this week to talk about the show's Just for Laughs (JFL) debut; in true Life Lessons style, we also covered vomiting with excitement, responding to the question "Are you happy?", and the existence of lightsaber dildos.
Janna Bryson: How did you and Leighland start doing Life Lessons?
Keith Waterfield: It started a few years ago when I was having a conversation with a friend of mine. He was asking for advice about a lady friend and I gave the worst advice. Well, it wasn't the worst advice it was just … comical advice. I think it boiled down to, "Well, there's no way anyone would be into you. So you should just not pursue anyone because you're a terrible person." And then he wrote back "Life Lessons with Keith Waterfield" and I was like, "Oh, that's a good idea for a show."
Within 3 weeks we built a show around that. Leighland and I have been working together for a long time, we have a lot of fun together, so he was the natural person to go to. Also, I'm like 5 foot 7, 5 foot 6 ½, and he's like 6 foot 2 and a good few hundred pounds heavier than me and a deep, Orson Welles-type voice. So when we come on stage we look physically funny together.
JB: So walk me through the format of your show. Who's there and what do you guys do?
KW: In the last year and a half we've really found what the show should be. We pick a theme – something vague and broad, like "living situations" or "money" – and we find people that we think are interesting, and funny, and not necessarily performers. Just people that we know we can talk to and that have good stories.
The stories are always meant to be sad or depressing or embarrassing – these really true stories from our lives that are so outrageous or heartbreaking or whatever that the only way to get through it is through laughter. When you tell those stories, it's usually only when you've had a drink or two, so we always have a drink with our guest. Because you're telling it to an audience, you get people thinking, "I've been through a sad experience like that." The audience and the guests both get to have this great moment of catharsis to get over these strange moments in our lives.
JB: Do you guys get a lot of audience feedback after a show? What do you think people get out of it?
KW: After every show. Every story has an audience member that relates; after the show people will come up and say, "I've had that experience."
We also take audience questions, they don't have to be on any topic and we'll answer them without reading them beforehand. We've been asked some very strange, very personal questions on stage.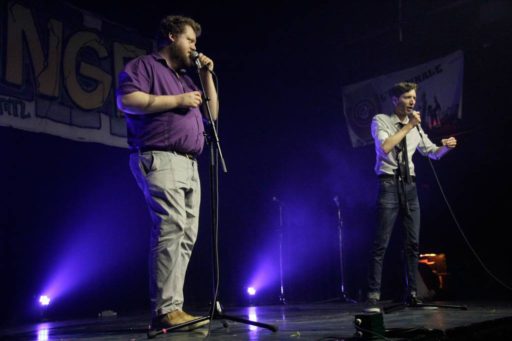 JB: What are some of the more memorable audience questions?
KW: One of the questions was "How does it make you feel that your mother or your grandmother have had sex before?" If you hadn't thought about that, then you have to think about it…
Another question, one that took me the longest to answer, was "Are you happy?" You're performing in front of 100 people who have paid to be there and you have to ponder this. I think the answer to that was "I'm happy right now, with all of you here… but…" It's a simple question but hard to answer on the spot.
JB: It seems like there's a lot of aspects of the show that you guys don't have a lot of control over.
KW: We have a little bit of control. A bare minimum of control. We do pre-interviews that are very basic to keep it as fresh as possible for the show. No details. Leighland will pre-interview some people and I'll pre-interview some people so neither of us know all the stories.
Then, of course, there's the alcohol element. As much control as we try to have, when you throw alcohol into the mix it makes it interesting. We don't get drunk, but we get more… relaxed.
JB: Do you have a favourite guest or story from the show over the years?
KW: We've had some interesting shows. One of them the theme was "porn," and we had four very different stories. One of the guests was a videocam girl, and it was a very serious, interesting, funny, and enlightening talk. You hear "cam girl" and people have all these assumptions, and I think that we changed the minds of anyone who had a negative assumption or was a bit judgmental of that profession during that conversation. And at the end she showed everyone how to make lightsaber dildos.
JB: This is your guys' first time at Just for Laughs, right?
KW: Yes it's our first time, and we are very excited. I'm very nervous and anxious. When I was a kid I used to get really excited about Santa Claus and Christmas, and I was hospitalized on Christmas Eve two years in a row because I would get so excited about Santa coming that I would just vomit non-stop from the nerves and the excitement. I eventually stopped getting really excited about things to the point where I started to have the perspective in life of lower expectations for everything. It came out of a lot of disappointment, but also out of not wanting to throw up.
I eventually stopped getting really excited about things to the point where I started to have the perspective in life of lower expectations for everything. It came out of a lot of disappointment, but also out of not wanting to throw up.
Then, when we found out we were going to be in the festival, my first reaction was, "Oh no, I'm gonna be in hospital the night before the show because I'll get too excited, and I'm going to have to wear the Ghostbusters pyjamas and someone is going to have to feed me rice crispies and water again." Which was a thing they did in hospitals in the 80s and 90s.
JB: Is there anything that you've had to adjust about the show for the festival?
KW: I think the main adjustment is to what the audience will expect of us. [Leighland and I] think our show is great, and now we have a bit more pressure. So I started reaching out to some really interesting fantastic people and I've had some wonderful email exchanges with some of my heroes. I wouldn't have had the confidence to that without the festival name behind us.
JB: Can you tell me who you have lined up for the show?
KW: I can say that we have Mary Lynn Rajskub, whom I have been a huge fan of for so many years. I was in email contact with George Saunders who's a New York Times bestselling author for short stories, I sent him an email asking if he'd be interested in doing the show. He couldn't make the date, but we're going to schedule a time where he is available for a future show. And now I have an email from one of my favourite authors in my inbox, and that's amazing.
I've also recently been writing with another George, Canada's Poet Laureate George Elliott Clarke, who may or may not be on the show on Saturday. When you write an email reply to Canada's Poet Laureate you choose your words very carefully, and I'm still not sure that I chose well enough. We will have Ali Hassan, he's an amazing comic, we're so happy he's on the show, and he also has a show of his own in the festival called Muslim Interrupted and it's going to be incredible. And then, we might have a surprise or two.
JB: Any last words?
KW: Everyone that comes to the show gets a free shot of Jameson so we can all cheers each other. Our catch phrase is "drown your sorrows with us," and this time we're able to provide the liquid to do the drowning.
Life Lessons will be playing on July 23 at the Mainline Theatre. For tickets, visit the Just for Laughs website. For future shows, check out Theatre Sainte Catherine.