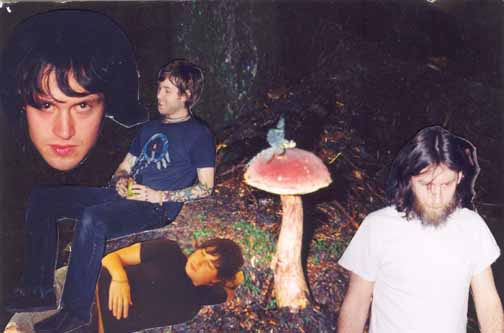 I've been in communication with several artists performing at Sasquatch! and I'll be posting the transcripts as we go along. In this article, Black Mountain responds to my questions.
The bearded Vancouver-based psychedelic rockers have been converting their intense jam sessions to record for a few releases now and gaining a devoted following. Their newest album, Wilderness Heart, is their heaviest yet and should translate into a powerful live show. They are set to perform at 3:00pm on Monday at the Bigfoot Stage and are sure to mesmerize the midday smokers as always.
Here's how bassist/singer Matt Camirand replied to my questions…
Tell me about the experience of getting the opportunity to perform at a festival taking place in a location like the Gorge.
I am looking forward to the Gorge as I have never been there before. I have many friends who have seen shows there and all have raved about it. As long as the weather holds out it should be a great time.
Back in 2008, I ran off from Roger Waters' set at Coachella for about thirty minutes to catch you guys. Being in the middle of that conflict must have been something you were not especially happy about- in fact, I believe I remember you saying something to the audience along the lines of "thanks for missing out on all the awesomeness over there." Care to add any insight into that experience or just festival scheduling in general?
Ha, yeah, I remember we had a bit of a moment of silence at one point so we could all hear Roger Waters' set going on in the distance and in fact the second we were done I cruised over there and caught the end of Comfortably Numb with all the insane pyrotechnics and such. It did seem a little strange to schedule us specifically at the same time as Pink Floyd, all things considered. But hey, it's a festival and if I got upset for every time I've been to a festival and there's been some logistical or organizational fuck up, I'd be a pretty miserable soul. Festivals are a lot of fun and I can only imagine how difficult they are to organize. Sometimes you win, sometimes you lose.
You recently returned from touring Australia and Europe, what was that like?
It was great. We've been to both places before and are always happy to get to go and play our music for the Europeans and Australians. The hospitality in both places is always top notch and the chance to get out of rainy Vancouver in the winter to get some sun in Italy or Sydney is always welcome.
Want more? Come like us.
photo from amoeba.com