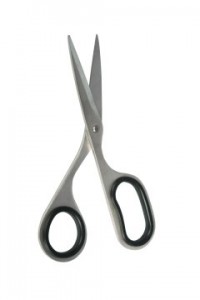 I look fantastic.
Even though it's 11:30 at night, I've been wearing a hat and won't tell you how long it's been since I've had time for a proper shower. My haircut is that good.
On the lookout for a new stylist, I'd been asking friends with excellent coiffure where they get it done. One woman directed me to Bikurious on Amherst. "A bike shop?" I asked. "Lesbian Haircuts for Anyone," she replied.
Sold.
Lesbian Haircuts for Anyone, owned and operated by the charming JJ Levine, is the type of business I hope to run into every time I leave my house. It shares space with a bike shop, is host to a store cat named Store Cat, isn't gender-normative, has great music, provides fantastic service, and – as if that weren't enough – the non-traditional business model (pay-what-you-can) proves that you don't have to sell out or fit the mold to make a living.
I had my appointment about three weeks ago, a little hung over from the election night drink/sob fest, and feeling the slight case of nerves one always has when venturing into new hair territory. Still, I was fairly confident because the friend who referred me is noted for her excellent coiffure.
When I arrived, JJ was just finishing up with another client, so after poking around the bike shop portion of the store and considering a new pink helmet, I took a seat in the admittedly snug hair-cutting nook. I eyed my seatmate with some trepidation, but was quickly won over by the purring, squirming, suck-up of a Store Cat. "Won't be long," JJ told me.
It wasn't. Soon, my predecessor was standing up, dusting off and looking fabulous. I took my seat, removed my glasses and put myself into the hands of a consummate professional.
"So what would you like today?" s/he asked me. This is always my least favourite part of a haircut. I never know what to say.
I gave my standard "you're the pro, please don't ask me to make decisions this far outside my realm or it will end badly" reply, and we got started. I don't have a photo of myself to show you, but rest assured the results were very pleasing, and have worn incredibly well to date.
As mentioned before, this is the type of small business that renews faith in small business, so I asked JJ if s/he would give us a brief interview to shed some more light on the concepts involved. S/he kindly agreed, so read on, then book your appointment!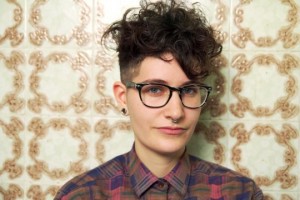 How long have you been cutting hair? Did you ever study it?
I've been cutting my own hair and my friends' hair since I was 14 but started cutting professionally about 5 years ago. I've studied different hair dressing techniques over the years with other stylists, but never in a formal beauty school setting.
What exactly is a 'lesbian haircut', as opposed to any other type of haircut? Good for both boys and girls, or more of a girls thing?
A lesbian haircut is anything you want it to be. The name came out of a joke unrelated to any actual hairstyle. That's not to say that people don't come to me for something specific though; I've developed a reputation for specializing in asymmetrical, edgy haircuts "for anyone." The cuts I give (asymmetrical or conventional) are intended to work with people's preferred gender presentations, which often amounts to a "women's cut" or "men's cut," but is certainly not limited to either of those categories. I have an extremely diverse clientèle that spans four generations, and a multitude of gender identities and sexualities.
Why pay-what-you-can? How does that work for you? Do you think it would work for other types of businesses?
It is very important for me to be accessible. A good haircut is something that makes people feel good about their appearance. Not everyone has 50-100 dollars to spend on a haircut, but everyone deserves to feel good about the way they look. It works for me because most of my customers understand the "pay-what-you-can" concept. Some pay me the same amount that they would pay if they went to another salon with fixed prices because they can afford it or they recognize that my work is on par, and others can pay me the 15 dollars they've been saving up. It really does balance out for me in the end. I think a sliding-scale model can and should be applied to other business endeavours.
Can you describe your ideal customer? The type that annoys you?
My ideal customer is nice and respectful. An annoying thing that happens sometimes is that because of the name of my salon (Lesbian Haircuts for Anyone), people make assumptions about my gender and assume I identify as a lesbian.
How did you get into a bike shop?
The bike shop and the hair salon came into being around the same time. My ex, Danielle Flowers, started Revolution in 2006, and I started cutting hair there casually which pretty quickly turned into the salon space that exists today. When the bike store was sold to Marissa Plamondon-Lu and Mackenzie Ogilvie, in 2008, and the name changed to Bikurious, it was agreed upon that I would stay. The new owners were also interested in preserving the community-based, queer feel of the shop that Danielle and I had been cultivating for years.
Do you have any plans for the next few years? Opening your own shop? Staying with Bikurious?
I plan on staying at Bikurious as long as the shop is around!
Favourite Books/Music/Movies?
My favourites are constantly changing, but I recently enjoyed the novel Holding Still as Long as Possible by Zoe Whittall, I've been listening to Big Fredia from New Orleans and Rae Spoon's new album, Love is a Hunter, and I loved the Denis Villeneuve film, Incendies, from Montreal.
Any comments or thoughts for Forget The Box readers? Something interesting I didn't touch on?
Although I am passionate about cutting hair, my true love is photography. My separate and simultaneous career as an artist is constantly growing and shifting.   Until my art practice pays for itself, I will always cut hair to make a living and to be able to afford to create new artwork. My portfolio is currently featured in a renowned and widely available Canadian art magazine called Ciel Variable, issue CV88. (Author's Note: Do yourself the monumental favor of also checking out JJ's art website)
If you're planning on getting a new 'do anytime in the near future, give Lesbian Haircuts for Anyone a try. Not only will you get a great haircut, you'll be supporting exactly the kind of small business that makes our city so extraordinary.
Call JJ Levine at 514-625-4247 to book. Pay what you can $15-$50.