There's nothing like eight characters prancing, dancing, and, at one point, collapsing on the stage to get your attention, especially when they are all directing their comments at you. The impersonation of all these different characters is so brilliantly done, you could easily forget that they are played by the same actor.
Eight characters, uncountable costume changes, and over an hour of drama and energy. With all that in mind, part of the mystery of Anana Rydvald's one woman show, Love, Child, is wondering whether she can pull this thing off.
In collaboration with local director Zach Fraser, Love, Child is the brainchild of Rydvald. She's the writer and the creator of the eight masks that give a different face to the eight bizarrely different characters that take to their turn centre stage. All eight represent the people in the life of Lina, a young woman that Rydvald plays unmasked, who we encounter at different stages of her life.
Love, Child is comfortably encamped in Infinitheatre's cozy Rialto Studio, the bastion of new, local theatre. The piece explores the imperfections of parents and parenthood through the relationship between Lina and her eccentric and largely negligent mother Magda, who's much too busy trying to find meaning in her own life to worry about the existence of Lina and her other daughter.
"She was going to be my love child," says Magda of her good intentions for her daughter that go sour. "She was going to be my light in all the madness."
Much of the non-linear story is told in subtext of these sometimes ranting monologues. The relationships between the characters, such as the troubled mother-daughter relationship, are brilliantly portrayed, despite the inability to see characters appearing at the same time on the stage.
Magda, who like Rydvald, comes originally from Scandinavia, takes us on a journey around the world, where her whims and her suitcase, which she drags around the stage, take her in search of herself. Much of the play centres on Magda, her daughter, and the other pieces of Magda's life that she leaves behind on her journeys to find herself.
Lina, meanwhile, must come to terms with her absentee mother while attempting, often without great success, to avoid many of the pitfalls that have trapped the other women in her life. Magda's estrangement from her daughters fails to protect them from the men in this story, who are largely useless, and often abusive with impunity.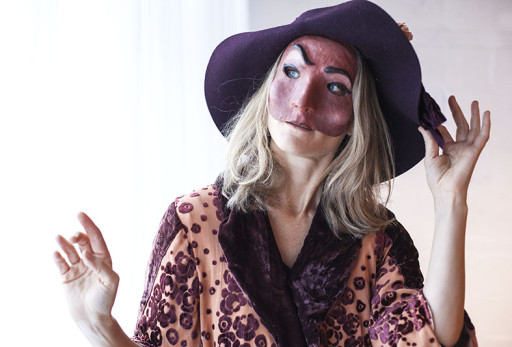 But Love, child is able to give a delicate touch on these weighty topics. There's much joy in watching Rydvald tell a story through her cast of these masked characters, a story that successfully blends tragedy with hope. You could still fall for the otherwise absurd Magda for example, even if she seems to be just on the lovable side of madness and delusion.
Then there's always the entertainment value in watching masks magically transform this performer into her different creations. That includes a chuckle provoking portrayal of Lina's elderly religious grandmother, a pair of the good-for-nothing men in Magda's life, as well as a teenage Lina, and her intellectually challenged younger sister. These "impersonations," as Rydvald puts it, of different characters representing different stages of life, gender, and culture was something she was able to nail more often than not.
The show is showcase of Rydvald's considerable talents as a mask artist, who also has a background in stage and screen acting, dancing, and miming. Rydvald also brings the energy necessary to sustain a successful one-woman show over its full length of over an hour.
If Love, Child intends to provoke thought about our parental relationships and the influence of that on our adult lives, it would have to be considered a success. "I always wanted children but I'm too scared they'd hate me" says Lina. It was the line that perhaps gives the audience the most food for thought.
There's something about watching the masked characters in Lina's life that reminds us of the less than perfect people in our own lives and maybe the unresolved need to make some peace with them.
Love, Child plays until December 6th at the Rialto Studio. Tickets available through the Infinitheatre website
Here are some of the sounds of the production, along with an interview with Anana Rydvald by Chris Dodd: