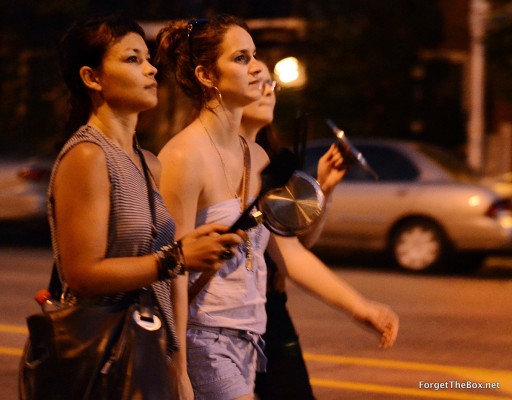 Last week, I had the pleasure of attending my first Plateau casserole march. I marched with a few small groups up and down St. Denis, the sound of about a hundred or so collective casseroles clanging in my ears, satisfying my thirst for noise-making. But right when I was about to head back home, I came upon the biggest march I'd encountered yet. It was a steady stream that engulfed at least ten full blocks of Mont-Royal. The energy was positively electric – young marching with old, French marching with English, a sea of red squares and passionate people proudly standing up for what they believe in. I watched, first in utter amazement at the power of the people… and then I started to feel quite turned on.
There's just something about revolution that's so damn sexy, and I'm not the only one that thinks so. Earlier this month, Kenza Chaouia started the @Manifdating account on Twitter as a forum for "protest buddies" who met on the streets of Montreal to reconnect. Since then, the account has grown to over 500 followers looking for love in all the red places.
"This isn't only for people looking for love," she explained. "It's also helpful for people looking for friendship."
While it's easy to get swept up in the romantic fervor of a protest, hooking up with your "manifcrush" requires a certain degree of tact and etiquette. Manifdating offers the following dating tips for protestors: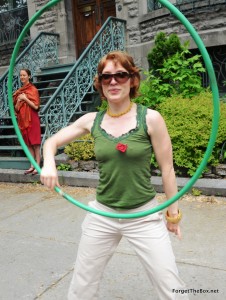 – Lend your manifcrush your phone so they can tweet at the SPVM. Everyone likes a hero.
– Nothing says love like giving your significant other your vinegar-soaked bandana when the tear-gas comes
– If a fellow protestor drops their spoon, lock eyes and pick it up. Everyone loves a good Samaritan.
– If you don't have an umbrella, make sure to bring a big enough casserole so both you and your crush can hide under it.
– This is the only moment you will ever be allowed to wear matching red outfits. Make the most of it.
– When you like what you see, keep it classy. Respect is everything.
– Impress your protester crush with high-quality cookware.
– Blow kisses together at the riot cops.
– Pin your twitter handle to the back of your square and offer it to your manifcrush.
So you've figured out what to do, but what about the right things to say? The streets are alive with chants like "SO SO SO, Solidarité, SO SO SO, So Do My", but that may be a bit forward for a first-time encounter. Here are some pick-up lines and conversation starters to use next time you're out on the streets: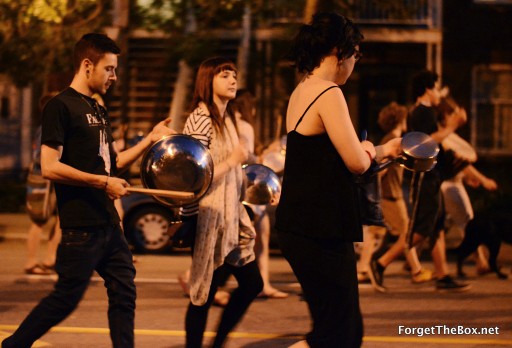 "Baby, let's smash the state and fornicate"
"This pot isn't the only thing I'm good at banging!"
"You don't have to protest to get through to my heart."
"Baby, if you play your cards right I'll let you hold more than just my placard."
"I'd wear plastic handcuffs and spend the night at the back of the bus for you."
"Baby, let me put the "man" in your manifestation"
"I wish I was your casserole so you'd tap me."
Finally, casseroles aren't the only way to make noise. Once you've wooed your manifcrush and successfully lured them back to your bedroom, I recommend engaging in the loudest sex you can at 8:00 pm in solidarity with the pot-bangers. Fuck la loi speciale, literally. I proudly support orgasms for social change and making love, not war. Perhaps you'll even inspire your neighbors to do the same!
 * Photos by Chris Zacchia