Starting tonight and for the next four days, Kickdrum presents a Summer Marathon featuring 50 local acts in 16 shows. A couple of weeks ago, I had the pleasure of hanging out at Kitsuné's cozy terrace, drinking coffee, and chatting with Kickdrum founder and director Joshua Spencer.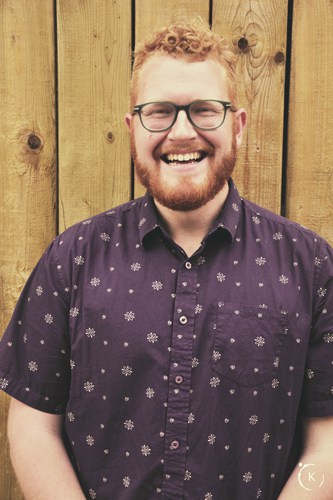 In the couple of years that Kickdrum has been active, the company has changed and grown considerably to become one of Montreal's local music's main current supporters. Its Summer Marathon is a sort of love letter to the creativity and range of local talent.
Spencer, at the helm and heart of Kickdrum, recounts the project's early origins when he and his band were looking to release new music and, as a recent business school graduate, he'd been assigned to find a way to market it. As a student, Spencer spent much of his time avoiding the stress vibes of the library, studying in independent cafés instead. This is where inspiration struck:
"Once I was at these cafes I realized most of the baristas are artists or musicians themselves. Everyone who is in there is either a student or an artist and the communities combine and interconnect so well. So I thought, hey, there's a great opportunity to take what Starbucks and iTunes are doing on a very corporate level and doing it extremely local. So I tried that for a little while but the way I was trying to deliver it wasn't the best and a little too involved. It was too complicated for the café owner and all parties involved for it to run in a sustainable way."
In June, 2015, with a PA system in tow, Spencer starting putting on small shows using the connections he'd built with café owners. Kickdrum began offering intimate setting shows with backyard events at Café Santropol and a bi-weekly series at Blanc de Blanc.
"We did A LOT of café shows in the last summer," Spencer recounts, "then towards the end, in August, a band and I mutually approached each other for management. At this point, I really wanted to get into managing artists. Soon after, I picked up a second band and, in the fall, picked up a third band along with a solo artist."
While managing these bands, Spencer starting to branch outside of his café network to book shows at places like Casa del Popolo, Divan Orange and Cagibi. He began noticing a space for promoting and booking independent bands that he felt only a few groups were actively doing (groups like Passovah, BTSB, Evenko, and Analog Addiction). Adding another promoter and booker to the mix could only serve to benefit of local musicians across the board, especially as different scenes interact and blend in novel ways.
Kickdrum also produces a series of music videos called the Klatsch Sessions that showcases local talent, although the series has taken a backseat during Summer Marathon preparation. On top of that, one of Kickdrum's other offerings comes in the form of curation of playlists and mix tapes featuring hundreds of local acts:
"For people to listen more locally, it's a matter of making it easy to find. So if you can just know that Kickdrum works with almost 100% local Montreal acts and every couple of weeks there is a new playlist. There is an infinite amount of bands. You can listen through for hours and hours and discover 100+ local independent bands and they are all sort of genres anything from soul and jazz to electronic to noise rock. For me, it's awesome. I love sharing these playlists and seeing people respond and clasp on to local bands."
In January 2016, Kickdrum hosted its first music festival which was inspired as a "big middle finger to winter" and a desire to hear music in intimate spaces where people could converse away from blaring music and less alcohol focused. It was the first festival Spencer organized, and in the heart of winter, which he feels he has learned a lot from the experience.
This week Kickdrum presents its first Summer Marathon. Knowing that Montreal is spilling over with festivals during the summer, Spencer wanted to put something on that was affordable and with a uniquely local emphasis.
The Summer Marathon offers four shows a day. Every day there is an outdoor show at Blanc de Blanc and one Le Cagibi show, with more full venue sound shows at La Vitrola, Casa del Popolo, and/or Bar Le Ritz.
"One of the bands I'm really excited about is How Sad," Spencer says excitedly, "I caught his last show at Divan Orange and it was really great. He is playing on the last day, he is kind of the finale show playing at Divan Orange with Our Book & The Authors and Isabelle Young."
"We have a franco show on July 13th with Samuele, Mon Doux Saigner, Helena Deland, and Claude l'Anthrope at Bar Le Ritz PDB. We have those four to kick it off. It's going to be unreal."
Of the 50 bands playing, the Summer Marathon d'Été offers bands that Kickdrum has worked with before along with a slew of newcomers. Additionally, as a commitment Spencer made on International Women's Day, in putting together the short fest he has prioritized having more diverse gender representation of artists selected.
"There are so many good ones! I'm really pumped for, another band I've worked with before, but I really dig is CO / NTRY," he exclaims, "Beaver Sheppard is in it. They call themselves sleazeway. It's total sleazewave. It's very synth y and guitar but then like, yeah, it's grimey. They are playing with Wake Island and Smokes, one of my favourite Montreal bands, and Tracer Flare. That's gonna be a really cool show."
"The most different shows, there are two that stand out of me. The hardest show of the festival is definitely going to be NOBRO and Nanimal at Casa. Then the other show that stands out is The LYONZ, my favourite rapper/producer in Montreal, and then Raveen, mix between James Blake and Caribou so electronic and soul and then we have Static Gold and Heaven Tide both electro soul afro funk sorta thing."
Spencer's passion for the artists he has worked with and supported through Kickdrum shines through. Throughout the interview, he beams when talking about different local acts participating in the Summer Marathon.
Spencer's other main passion is environmental policy and activism and so Spencer has found a way to bring these two passions together: the Kickdrum Summer Marathon has teamed up with an organization called Plus One so that one dollar from each ticket sale go towards USC Canada's Seeds of Survival program. The marathon will also feature a screening of the climate documentary The Cross of the Moment at Nomad Live (129 Van Horne).
You can purchase tickets and find out more at kickdrum.info