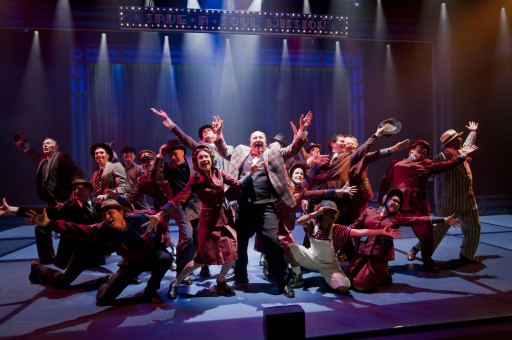 While most of my time is happily spent in dive bars listening to rock'n'roll, what a treat it is was to be invited by the Segal Center to review their lavish production of Guys and Dolls. Knowing that I had a friend who will also never say no to dressing up and singing along to musicals, last Thursday fellow FTB writer Jess Klein and I made our way to check out Guys and Dolls at Segal's beautiful venue on Cote-St-Catherine.
Since I know I'm someone who will always compare everything to the movie, I resisted the urge to watch the Frank Sinatra/Marlon Brando version before the show. I also admit that even though its one of the most famous Broadway productions of all time, I knew absolutely nothing about Guys and Dolls. As the show began, the feminist in me was a little irked at the whole premise that women, aka dolls, should always come second to a man doing his thing. But just like when I went to check out Shakespeare in the park this summer, I reminded myself that I have to evaluate these productions remembering they're from another time. And with the overall fabulous production value, it was very easy to sit back and get lost in the show.
For those of you who don't know the story, Guys and Dolls is the story of two New York City gamblers, a.k.a. the "Guys", Sky Masterson (Scott Wentworth) and Nathan Detroit (Frank Moore). Missionary Sarah Brown (Tracy Michailidis) and aging cabaret star Miss Adelaide (Susan Henley), aka the "Dolls", are the women who find themselves in the unfortunate situation of being in love with them. As the Guys try to find ways to organize a craps game to make some dough, the Dolls try to find ways to get their sinner men to commit.
As with any musical, the music in Guys and Dolls is the real star of the show. Like most people unfamiliar with the show, I'm assuming, I only knew "Luck Be a Lady" as made famous by Sinatra.  I was a bit off-put at first by Michailidis's almost operatic voice when she sang Sarah's songs like her Havana duet with Sky "I'll Know". But the more I think about it now, the more I realize that it in fact suited her innocent character quite well. While I had a hard time buying the premise that her character would ever fall in love with Sky, the two actors did have great chemistry so it was fun to watch. Wentworth and Moore were both that perfect combination of devilish and charming, and had some of the strongest singing voices in the entire cast. "Guys and Dolls" and "The Oldest Established" were some of my favourite songs of the night.
As talented as everyone in the production was, in my humble opinion no one was quite as wonderful as Susan Henly. The fiery ditzy redhead, who strutted her stuff in outfits I desperately wish I could pull off, was the definite charmer of the night.  While her duet "I'll marry the man" with Sarah made me roll my eyes more then once, all of her cabaret numbers like "A Bushel and a Peck" were amazing. I really hope to see Henly in another production in the future.
My silly modern thoughts aside, I had a lovely night seeing Guys and Dolls. If you'd like to check the production out for yourself, Guys and Dolls runs at The Segal Center until October 28th.