MAKE 'EM LAUGH: When their son wants to marry into a conservative family, a gay couple has to try playing it straight in the French comedy classic La Cage aux Folles
LA CAGE AUX FOLLES (1978)
Starring Ugo Tognazzi and Michel Serrault
Directed by Edouard Molinaro
Released by United Artists
French with English Subtitles
110 minutes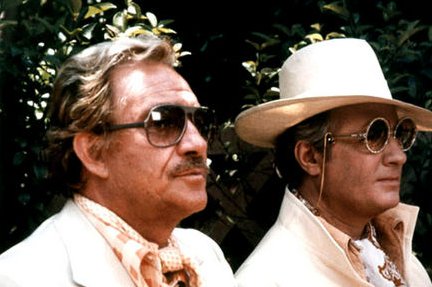 La Cage aux Folles is a great comedy by any standards, but even more so because of its important messages of acceptance and never trying to hide who you're meant to be.
Laurent (Remy Laurent) is a young man whose parents, father Renalto (Ugo Tognazzi) and "mother" Albin (Michel Serrault), are owners of La Cage aux Folles, the hottest transvestite club in the south of France. While Laurent is only twenty, he's wise enough to know that having a mother and a father does not a happy home always make and he's grateful his parents gave him a stable loving childhood.
But when he gets engaged to Andrea Charrier (Luisa Maneri), the daughter of the man who runs the political party Union for Moral Order, Laurent finds himself in trouble. After he returns home to tell his parents the news, he discovers his prospective in-laws want to come for a visit. So Laurent begs his father that at least one night their extroverted family can try playing it straight. Disaster, of course, ensues.
Having seen the 1996 Hollywood remake of this film, The Birdcage, it's hard not to compare the two. Mostly following the same script, both are great comedies, but the original is stronger for several key reasons.
Firstly and most simply, the first film was made in the 70s. It's more believable that a family would try to hide their sexuality back then rather than in the late 90s (then again, America has always been way behind Europe in issues related to sexuality).
Also, Robin Williams and Nathan Lane are excellent performers, but both actors play the characters simply for laughs. Just watch the scenes where the characters are practicing their newest routine for proof. Tognazzi and Serrault meanwhile have just as many funny scenes together, but this script spends time focusing on how Renalto and Albin are just as married as any straight couple could ever be.
This grounds the men in a reality that doesn't make them simply a flamboyant stereotype. Speaking of reality, it's refreshing to see that the actors who play Laurent and Andrea actually look like they're eighteen and twenty instead of in Hollywood where thirty year olds are cast as teenagers. Seriously Hollywood what's up with that?
If handled by a different actor, the character of Albin could have definitely simply come across as a screeching queen. Serrault gives Albin just the right mixture of prima donna and loving mother figure to make him lovable. Lane comes close to achieving the same type of performance, but Serrault is just too fabulous to beat. The scene where Albin dresses up in drag and convinces an uptight conservative politician that he's a woman is one of the best sequences ever in a comedy.
Ultimately, the secret comes out and they are cruelly rejected by the Charrier family. But Renalto and Albin, (the "freaks") ultimately prove themselves the better people when they help the Charrier family out of the club after the press gets wind of where Mr.Charrier is spending his evening. It's completely rewarding and hilarious to see a man who is so vehemently opposed to homosexuality sneak out of the club in drag.
Cage aux Folles never shoves gay rights down your throat but rather playfully comments on how ridiculous it is that people hate each other because of who we love.