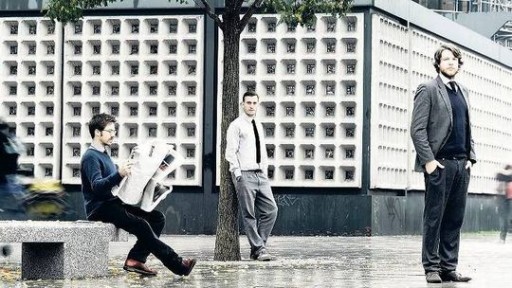 Here's a new playlist inspired by the season change about to happen. I'm in a contemplative mood these days and you can feel it in my music selection.
The first half of this playlist is made of long and hypnotic songs. It's beautiful trance sounds to listen to while waiting for better, longer and warmer days. There are more conventional house sound and a little hip-hop gem at the end. Let me introduce the tracks…
Brandt Brauer Frick – Pretend (Soul Clap remix)
You may know that Kraftwerk will have an eight-day residency at MOMA in April. Well, tickets went on sale last week and, like many people, I didn't score any.
This lead to a period of denial that saw me refreshing Craigslist NYC every two seconds in hopes of finding a scalper willing to empty my bank account in exchange for one ticket. It didn't happen either.
I then realised that Kraftwerk is so passé and that there's another German band worth checking out. Brandt Brauer and Frick is an amazing trio using only analog gear. They just released a single, Mr. Machine, with great remixes from Soul Clap, Dollkraut and our local producer Horror Inc (aka Akufen).
Pachanga Boys – Time
Pachanga Boys is the fruit of a collaboration between Superpitcher and Rebolledo. Time is a 15 minute masterpiece and the perfect song to "lose track of time" to while daydreaming. It was released as an EP named Girlcatcher on Kompakt but due to the limited run of only 300 copies, the vinyls are already sold out.
I:cube – Hnt
Part of Versatile Records, Nicolas Chaix has been around since the 90s. Using either his pseudonym I:Cube or Chateau Flight, he's known to release great down-tempo music. Hnt is part of an edit EP which means that Nicolas Chaix didn't compose the song, but rather re-worked an already existing track to make it more dancefloor-friendly. The original is from 80s band New Musik. Which version do you prefer?
Storm Queen- It Goes On
Storm Queen is the new project of Morgan Geist featuring Damon C. Scott on vocals. It's his second release and so far he's two for two with me, as I've included both of his singles on my Forget the Box playlists. It's perfect pop music to dance to.
Maceo Plex – Ain't That Love
Oh yes! It is love I feel for Maceo Plex every time I hear one of his songs. He was the guest dj on BBC radio 1 on February 18th. Have a listen to his essential mix; a perfect soundtrack for pre-drink parties.
Omar S & Ob Ignitt – Wayne County Hill Cop's (Omar S remix)
Omar S is a genius and he knows it. In the past, he released a track called It Can Be Done But Only I Can Do It, made a fabric mix featuring only tracks made by…him. So yeah, he has a big ego, but I'm still a sucker for anything he releases. You like the song? Go check his record label FXHE records and you might find other gems.
M.I.A – Bad Girls
She's back! After a deceiving second album, I think it's safe to say she won't make the same mistake twice for her third release. The beats are perfect, the video even better. Summer song of 2012?
Another month, another playlist. Are these songs fitting in with your March mood? Do you have any suggestions for next month's playlist? Go ahead and share your song of the moment!

Create a MySpace Music Playlist at MixPod.com