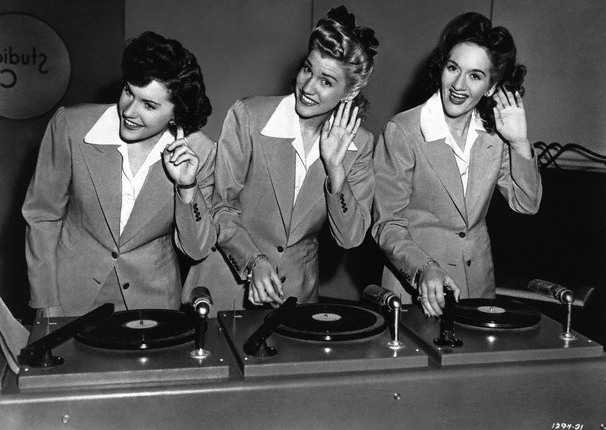 I have a love/hate relationship with the month of March. It's almost the end of winter, so that's sweet, but at the same time you always have a last week of Antarctic cold that makes you dream of moving to Cuba. It's my birthday so I get free drinks for a week, but that also means I am aging! Anyways, long story short, I guess March = mood swings for me and that's a bit what this playlist is about – it goes from synth-wave to deep house. Enjoy catching spring fever!
*Playlist is in order of song description.



Create a MySpace Music Playlist at MixPod.com
Shit Robot Take em up
As the snow will start melting, my love for pop music will return. Shit Robot made the perfect song to match my spring fever mood. With Nancy Whang from LCD soundsystem and Juan Mclean fame on vocals, this single from Shit Robot's debut LP From The Cradle To The Rave will stay in your head.
Omar-S Here's your trance now dance!
The latest release from Detroit producer Omar-S came out on his own label FXHE records. When I first heard it I unconsciously started to smile. Since then I've listened to it every day. It's a feel good song that will undoubtedly become a great dj tool to make the crowd go crazy at seven am.
Laurent Garnier The man with the red face
This track is not new at all. It came out eleven years ago. Why am I putting it on this month playlist? Because Garnier will perform at Théâtre Telus on March 24th. It will be a five hour performance including both a live and dj set. Don't miss the chance to see this French dj who started his career over 20 years ago at the mythic Hacienda.
Steffi Yours (ft.Virginia)
Last February, the Panorama bar dj released her first album Yours & Mine on Ostgut Ton. The result is a soulful deep-house record. The Berlin artist is more known for her dj set, but this release places her high in the producer hierarchy.
Femme Télégraphe
Addictive lo-fi and 80's inspired French songs. That's what Femme is about. I first got to know the band during my recent Europe trip. They were playing in an 18th century castle two hours from Paris. I immediately fell in love with them. They just did a mini tour in the USA, so hopefully we'll be hearing more from Femme on this side of the ocean soon. If you're into that kind of sound I recommend this great synth-wave compilation.
Automelodi Schéma corporel
Might as well continue with the French music suggestions. For having tested it on Berlin's dance floor, I guarantee that you don't have to understand the lyrics to appreciate this song. Automelodi's the latest project of Xavier Paradis. Oh! I forgot to mention that they're from Montreal and you absolutely need to see them live.
Bicep Darwin
Andrew Ferguson and Matthew McBriar are not only behind one of the most interesting music blogs right now, but they also know how to make you dance. Darwin came out on Throne of blood last December. Check out this interesting edit by Retro/grade.
Recondite Robur
Let's finish that playlist with a hypnotic beat. Not a dancefloor banger but a beautiful melody that will keep you dreaming until spring is really among us.
If you're craving more new music tune in Cism 89.3 fm where I'll be hosting my radio show Ce soir on danse. The fun starts at 21h30 every Saturdays.
Photo gregdelon.fr