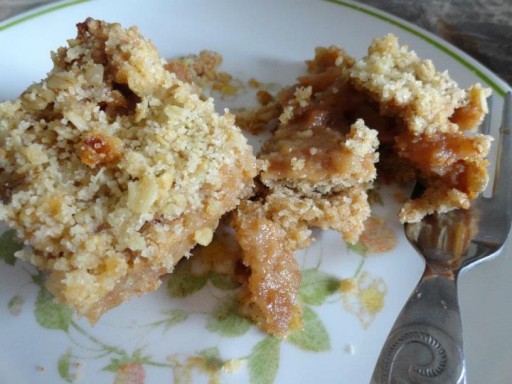 Last Sunday, I made this delightful apple cake I dreamed up, and everyone at my party loved it! Many people asked me for the recipe, so I decided to share it with all of you!
I call it my comforting apple crumble cake because there is something so homey about anything with apples and cinnamon: apple pie, apple crumble, apple turnover. I guess that particular smell of apples and cinnamon reminds us of childhood when our moms, aunts and grandmothers would be baking and the whole house would smell like a warm hug! You will get that same feeling when you prepare this apple filling on your stove. It has to simmer slowly for almost an hour, allowing the aroma to dance its way into every room. Prepare the filling first so that it has time to cool a little before pouring it over the cake.
I chose to use organic apples for the filling. Organic means that the food in question was not grown with chemicals like pesticides and herbicides, and that it wasn't genetically modified. Sometimes it is a little more difficult to find organic produce versus that which is conventionally grown, however, it is becoming more widespread. Let's continue buying organic, and it will become more readily available! Also, sometimes, certain things are more expensive when they are organic. We all have to make a choice whether we want to invest a little more in what goes into our bodies and save on time spent being sick later on! I think it's well worth it! Isn't our health our most precious wealth?
This cake is delicious served on its own with a hot cup of green tea or coffee, or also for added yumminess, with a scoop of coconut vanilla ice cream. Ohhhh heaven! I'm in heaven!
Enjoy, in joy and in health!
Follow Maria on Twitter and Facebook.
Ingredients:
 Filling:
7-8 large, sweet red apples, peeled and chopped
1 cup unsweetened apple sauce
1 teaspoon ground cinnamon
1/3 cup raw agave nectar
1 teaspoon coconut oil
1 tablespoon lemon juice
½ teaspoon sea salt
1 teaspoon vanilla extract
Cake:
4 cups whole wheat pastry flour or brown rice flour (gluten-free option)
1 cup raw cane sugar
3 teaspoons baking powder
4 teaspoons egg replacer
1 cup grapeseed or coconut oil
¾ cup purified water
¼ cup unsweetened apple sauce
½ teaspoon sea salt
Topping:
½ cup almond flour
½ cup raw cane sugar
½ cup old fashioned rolled oats
3 teaspoons vegan butter or coconut oil
Method:
In a large pot, combine all filling ingredients and simmer on low heat for 45-55 minutes. Set aside and allow to cool.
Preheat oven to 350˚F.
Combine cake ingredients in a large bowl.
Knead mixture into firm loaf. If loaf crumbles or is too hard to work with, add a tiny amount of water. Remove 1/3 of the mixture and set aside.
Press down mixture in a 10 inch x 10 inch glass or ceramic baking dish.
Pour in cooled apple filling.
With remaining 1/3 of the cake mixture, take small amounts and make palm-sized patches with your hands. Place patch by patch over fruit filling until all the fruit is completely covered.
In a small bowl, combine all topping ingredients. Rub mixture between fingers until it begins to form small clumps. Sprinkle topping over top of the cake.
Bake for 50 minutes.
Remove from oven and allow to cool for at least 1 ½ to 2 hours before cutting. Serve warm on its own or with coconut vanilla ice cream.
"A human being is a part of a whole, called by us 'universe', a part limited in time and space. He experiences himself, his thoughts and feelings as something separated from the rest… a kind of optical delusion of his consciousness. This delusion is a kind of prison for us, restricting us to our personal desires and to affection for a few persons nearest to us. Our task must be to free ourselves from this prison by widening our circle of compassion to embrace all living creatures and the whole of nature in its beauty." ~Albert Einstein