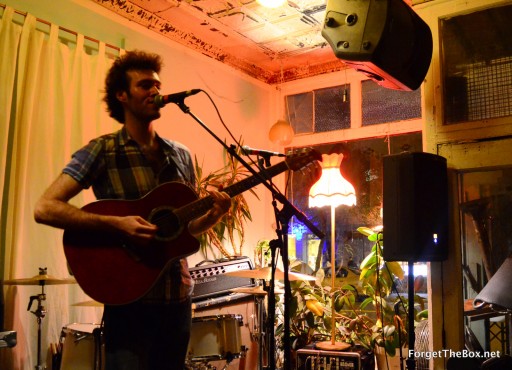 If you're a friend of Matt Stern's, you may well end up in one of his songs. He shared the backstory on a couple of his tunes during POP Montreal, at Cabigi. Having never been there before, I was pleased to find that it provided a perfectly kitsch-tastic backdrop for his bright eyed, acoustic set (is that a Formica table? Formica is awesome!).
He explained how on a trip to Croatia, a friend of his, not having her usual distractions at her disposal, had been at a loss to entertain herself; a story he turned into the hashtagable (and timely; Facebook interface changes, anyone?) First World Problems. An email from a friend on the subject of her misdirected love inspired My Heart is an Idiot, bringing much needed levity to the all too painful condition.
Beyond the upbeat guitar and a voice that loosens the panties a li'l, Matt's lyrics are filled with awareness, yearning, and how easy love should be. They're simple tunes, overall, but is there anything wrong with that? I like music that makes me want to skip and smile as much as I like music that makes me want to smudge my eyeliner, and these songs made me think of sunshine and summer romance. While a few of the riffs reminded me of what Ben Lee was up to awhile back (which is fine in my books), his lyrics belie an expansive and mature perspective. With lines like "in an ocean still seeking / she's kneeling with her palms in the ground", and choruses about gratitude, it feels like Matt's songs are coming from an honest and vulnerable place, one that makes me hope the best for his budding career. That, and I can't wait until there are posters of him; he looks like he belongs in a frame…on my wall. There is of course a huge clause in the hipster manifesto about not getting too excited about things, and the carefully casual group in attendance didn't disappoint in that regard. I may have lost some points there, but the good news is, I am ever too cool to care.
Photos by Chris Zacchia
For more pics from POP Montreal check out ForgetTheBox on FB!