Computer problems, rain every day, cold weather and the Torries getting a majority; the beginning of May was not good for the spirit. I didn't let myself get too depressed because at the end of the month something amazing will happen. After years of lacking either money, friends to go with or time, I will finally step a foot in Detroit for their 2011 electronic music festival (DEMF), Movement. I won't tell you too much today, but keep reading my column for more details, and interviews with the artists as the festival approaches. As an appetizer, I propose you a playlist that reflects the line-up of this year's festival.

Create a playlist at MixPod.com
Ambivalent Zoo Trip
Let's start the playlist with something on the minimal side. Ambivalent is part of the M-nus crew, and he recently teamed up with Alexi Delano to deliver Brooklyn Weekdays, an EP with a minimal sound (you can't escape that if it's released on M-nus records) but with a touch of house and some great groove.
Aril Brikha Forever Frost (Original Mix)
A Swedish producer inspired by the Detroit sound, Aril Brikha first got noticed by Derrick May, who released his first EP in 1998. Over ten years later, Brikha has now released a new EP, Forever frost on his own label The art of vengeance. It's not the first time he's played at DEMF, and every time he visits the festival he leaves an amazing impression on music lovers.
Sammy dee Lirum Larim
You can't have an electronic music festival without a Berlin artist. Here's Sammy Dee who's been working with Guido Schneider to produce some great music. Blessed with great DJ skills has residency a lot of famous clubs such as, E-Werk, Robert Johnson, Ostgut and Tresor.
Kerri Chandler Moon Bounce
Kerri Chandler is a legend. Coming from a musical family (his father was also a DJ), he brought truly innovative sound to electronic music. He's known as the creator of deep house and has been deejaying since he was 13. Having such a strong background, he's one of the Detroit Electronic Festival artists that I can't wait to see.
Art Department Living The Life (feat. Seth Troxler)
This is the second time that Art Department is featured in this column. They're an up-and-coming duo that recently released a full length album, The board game on the label Crosstown Rebels. It seems that every song Seth Troxler puts his vocal on is meant to be a success. This one is no exception.
Soul Clap Lonely C (feat Charles Levine)
When DJ's are asked to get involved in a music foursome for the need of a compilation it can be a disaster. I mean, they can have quite an ego, and it can sometimes sound like there's a lack of homogeneity. This is definitely not the case in the most recent DJ kicks compilation. Duo, Soul Clap and two guys from Wolf Lamb, got together to deliver a mix that represents their collaboration over the five years at the Marcy Hotel in Brooklyn. If you can't do the trip to Detroit you'll be happy to know that both Soul Clap and Wolf Lamb will be performing in an all-nighter on May 21st in Montreal.
Space Dimension Controller The Love Quadrant
Coming from Ireland, this twenty year old kid is getting a lot of notice in the electronic music scene. Will he be able to pass the stage test? In the meantime, he's putting freshness into the music world.
Portable Inside Your Mind
This last song has nothing to do with the festival but it's so good that I couldn't wait until next month to deliver it to your ears. Born in South Africa and now living in Berlin, Alan Abrahams released has most of his tracks on Perlon records, but this release marks a return to the label Karat records.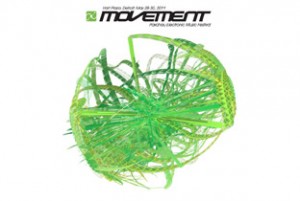 This playlist was mostly influenced by the Detroit Electronic music festival which takes place from May 28th to 30th at the Hart Plaza. It's not too far from Montreal, the lineup is insane and tickets for the three days are only 60$. Plus, you get to see the most important electronic artists from the past, as well as the new most talked about? I am in!
Want tickets? More info? More facebook pages to like? …it's all right here on the Movement page.
You liked it and now you want more? Tune in to CISM 89.3 FM every Saturday from 9:30 to 11pm (or anytime since you can listen to past shows on internet).
If you stumble into an incredible song and want to share it send me a shout at Cesoirondanse@hotmail.com.
Lindsay Djin' photo from djfameorshame.com and Movement photo from residentadvisor.net.