File this one under "ideas that Howard Stern wishes he'd thought of first". Calgary radio station Amp Radio is giving away a breast augmentation to the person who receives the most votes in their online contest dubbed "Breast Summer Ever". But before a disapproving sneer can escape your lips, know that there's nary a ditzy stripper-lookalike in the bunch.
Amp Radio has selected 10 finalists who each have a short video up on the station's website, where they tell their story and why they deserve the $10,000 surgery, with personal motivations ranging from noticeable lopsidedness to scars from a 3rd degree burn covering one woman's entire right breast.
The contest generated some controversy when it was announced back in June. The CBC ran a poll on their website where they asked if breast augmentation surgery was an appropriate prize for a radio contest, and readers were split exactly down the middle between "no objection, people should be free to enter if they want" and "I think it's inappropriate".
Amp listener Cara Casey told the CBC, "I think actually posting a photo of yourself and making your plea for fake breasts is a bit over the top… to have people vote on your chest, essentially, is quite degrading."
In reality, the photos of the contestants are cropped just above the chest so the public's voting decisions are made on the stories of the 10 finalists, many of whom experienced changes in their body after losing weight or giving birth. Amp also explicitly prohibited contestants from sending in nude photos.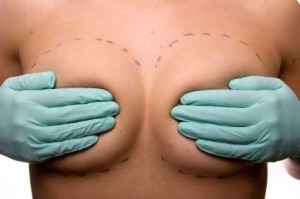 Only one of the finalists, Lindsey, a stay-at-home mom of three is seeking a breast reduction down from double FF. "It's hard to exercise with them and to find a bra to fit them in," she laments, noting that her bras are about 4 times the price of normal bras. While breast reduction surgery is covered by all provincial health plans, the criterion for approval varies from province to province.
Given that the contest takes place in the province affectionately known as "The Texas of Canada", the biggest surprise in the bunch is Avery, a transgendered musician and teacher. In her passionate 2-minute plea for votes, she highlights some of the issues facing transgendered people in Canada, including financial burdens and facing discrimination at their jobs.
"All these other girls had the luck of being born with breasts… getting breasts would help complete me as a person," says Avery.
I found it quite fascinating just how much of a woman's sense of self-confidence and femininity comes from her breasts. Almost all the finalists insist that while they accept their bodies, having bigger breasts would give them more confidence and make them feel more comfortable in their skin. While they insist they're doing it themselves, I can't help but wonder about the pressure society places on women to fall into this narrow definition of femininity. Then again, it's really hard for me to place myself in their shoes, as there isn't a thing I would change about my fabulous breasts!
One contestant, Diana, sums it up in her video:
"A lot of people out there assume that we're trying to give ourselves the Barbie doll look. That's not the point of this. I'm doing this because I want to feel more comfortable and proportioned in my body. I'm not gonna go for double DDs because that's not natural."
Hate to break it to you Diana but breast implants aren't exactly natural either.
Voting for the contest ends on Sunday July 17th, and the winner is announced on Wednesday July 20th.
Photo credit: http://www.ctv.ca/CTVNews/Health/20110623/breast-implants-study-fda-110623/