Shit just got real. Last week McGill University received a notice of seizure from Kahentinetha, one of the Mohawk woman titleholders, or kahtihon'tia:kwenio, of the land the school sits on, in fact they are titleholders for the whole island of Montreal, which used to be known as Tiohtià:ke.
Montreal's own internationally recognized English academic institution which has stood for 194 years has done so on land that never belonged to it in the first place. Also, according to Kahentinetha, the school still owes the $1.7 million it borrowed from the Six Nations Trust Fund, though they claim they paid that amount back to the Federal government.
Now the title holders have finally had enough of McGill's BS and want the squatters out. But why send a seizure notice to this one institution? It makes sense if you look at the school's history and recent comportment.
Militarism, Experiments and Anglo Dominance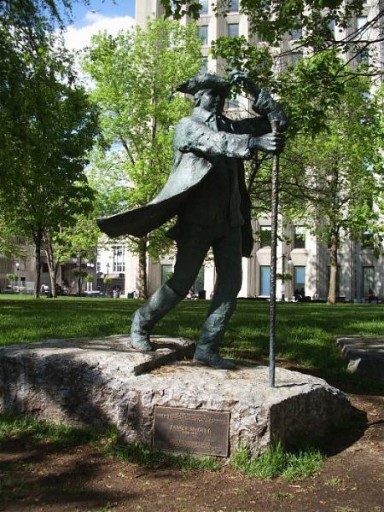 McGill University was the brainchild of an illiterate slave owner who wanted the English colonists to dominate the French. James McGill was told that the best way to accomplish his goal was to establish an institution of learning. So he left his fur-trading fortune to do just that.
In the decades that followed, McGill University would serve the interest of Montreal's Anglo elite, harbour a serial killer in the making and promote militarism.
Ever wonder why the campus gym was originally called the Arthur Currie Memorial Gymnasium and Armoury? Well, that's because it served as both leading up to World War 1. Ever take in an Als game at Percival Molson Stadium? It's named for a McGill student from a prominent family who was recruited on campus to fight in a war which killed him.
The evidence of McGill's military involvement is everywhere on campus. Initial development of the atomic bomb even took place on campus under the supervision of Ernest Rutherford who now has a building named after him
McGill was also used by the CIA in the 1950s. Dr Ewan Cameron conducted secret agency-funded LSD experiments on unsuspecting patients in the McGill-controlled Allan Memorial. Doing acid for fun is one thing, being given it without your knowledge so some so-called doctor can observe you for the CIA is a whole new level of despicable and unethical.
Recent Problems
In recent years, McGill doesn't seem to have changed its colonialist pro-military tune much. Following hazing scandals (Dr. Broom) and an attempted, unconstitutional ban of protest on campus, it now looks like the University is actively trying to hide any current association with militarization.
Student Cadence O'Neal wanted to know about the University's involvement with military contractors CAE, Bell Helicopter, Bombardier, Lockheed Martin, Textron, General Atomics and others. She filed an Access to Information request and the case is currently before Quebec's Commission on Access to Information. McGill is trying to withhold 8944 emails between these contractors and the CFD Lab which specializes in the research and development of 3-D modelling software for the aerospace industry.
Enough is Enough
It's no small wonder that the actual titleholders of the land have had enough. McGill has been getting away with far too much over the years and refuses to change its ways.
They won't display the Hiawatha Belt Flag on National Aboriginal Day out of "risk of losing the privilege" of flying the McGill flag but have no problem replacing their colours with the flag of the Queen of England when the Gouvenor General pays a visit. They have also refused requests to move the Hochelaga Rock, commemorating the Mohawk village that once was here, to a more prominent location.
With that level of unwarranted indifference on the small stuff and a history of pretty atrocious big stuff, the time has come for McGill to deal with their landlords.