Mélanie Joly is the newest face on the Montreal political landscape. Rather than join up with an existing party and start her political career running for a city council position, the 34 year old lawyer, PR professional, former Musée d'art contemporain de Montréal, Fondation du CHUM and Fondation de l'ITHQ board member and founder of several political think tanks in Shaughnessy Village is running for our top municipal job, Mayor of Montreal.
"I was profoundly frustrated with what was going on in Montreal," Joly explained, "I think that in order to make sure that you really offer change, you have to be coherent, you have to start from scratch. So we thought let's develop an entirely new program with an entirely new team. We're a political startup."
Her team, Le vrai changement pour Montréal – Groupe Mélanie Joly, currently consists of 46 candidates, most of them in the 25-40 age range. With 103 seats up for grabs in the municipal election, Joly is "very open" to working with people in other parties if she wins, regardless of what party they come from.
"I don't have a preference," she said, "what's most important is that people are competent, people walk the talk and people have integrity."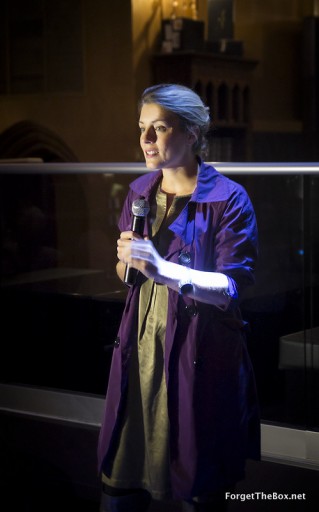 We were speaking before Joly took the stage as an invited guest at les Jeudis d'Apollo, a monthly series showcasing Montreal's artistic talent alongside people behind some of the city's newest startups. An appropriate venue given how Joly sees her new party but also her love of Montreal's nightlife.
In order to prevent Montreal from becoming "another suburb" she is proposing that we create a nightlife charter. In fact, it's one of the key points of her platform. Basically, bar and restaurant owners would enter into a pact with residents "to make sure that everybody is happy and that there's a good balance between interests."
She wants to use this approach in all parts of the city, not just the areas that already have a vibrant nightlife. She cited the emerging Notre Dame Street bar scene in the Sud Ouest borough and all the new restaurants that opened up on Fleury Street in Ahunsic over the past decade as examples of where such a charter could be effective.
"It's really important to understand the realities in different neighbourhoods," she added, "I don't think that it's the same solution throughout Montreal. I think you must adapt to every neighbourhood, to every borough."
While Montreal may be famous for its nightlife, it's also well known for its activism. One of the most contentious things the current city council did was pass amendments to Municipal Bylaw P6 banning masks at protests and requiring protesters to provide a route which needs to be approved by the police, otherwise the protest could be declared illegal.
After mass kettling this past winter, people started calling for the changes to be repealed. There was a vote, with then interim mayor Michael Applebaum arguing for the bylaw to remain intact and Projet Montreal trying to remove the changes completely. Applebaum's side won, barely.
Joly agrees with P6 critics that there should be no legal restrictions on wearing a mask at a protest. She also feels that the SPVM has too much discretion when it comes to applying P6. But she also thinks that any group seeking to demonstrate in Montreal should provide their route.
"For us, it's fundamental, it's a question of balance of rights between people using public space and also demonstrators," Joly stated, "I really believe we need to find a practical solution where people can express themselves and that we protect freedom of expression but at the same time that we are able to really make sure that there's good planning in terms of resources on the part of the city when the demonstrators are demonstrating."
But who should get to approve the routes, the police or another body? Joly feels there is a need for clarity.
"We need to make sure that there's a policy that really is clear in terms of what can be done," she said, "right now there's too much discretion. We must make sure that the new generation of Montrealers respect the work done by police officers and if there's too much discretion given to them and too much arbitrariness, that won't help and they won't necessarily want to respect an authority that has too much power over them. It's a fine line but we must make sure that the rights are being well balanced."
It seems balance is important for Joly, whether it has to do with protests or nightlife. Will Montreal's electorate balance in her favour? We'll all find out on the third of November.
* Photos by Valeria Bismar