Melissa Bel. Wow. I was introduced to this petite powerhouse last weekend at Hamilton's Artword Artbar and was blown away by, well, everything about her. She truly is a belle, but certainly has the talent to back up the looks.
Perhaps most striking is her voice. It boasts total control. Bel sings with a dynamic range from barely a whisper to belting to the rafters, and hits every note with confidence and clarity. Her physique reminds me of Celine Dion, and I wondered while watching her sing how such big sound can come out of such a small frame.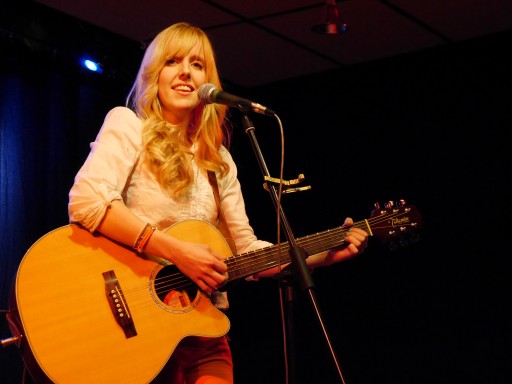 Indeed, her vocals are surprisingly strong, but that's just the tip of the iceberg. Her songs are well written and, just as important, cover a range of moods and feels from upbeat, punchy numbers to slower, more ballad-esque tunes. Many of her songs are blues and rock based, though some betray a folk influence, and some are more pop. It's nice to see an artist who can write in different styles as comfortably and convincingly as Bel. Even more surprising when that artist is only in her mid-twenties. She has an air about her that is far beyond her years both in the way she commands attention during performance and also with her songwriting.
Her sophomore album, Distance, released in 2012, reached No. 1 on Montreal's CIBL Jazz and Blues charts that summer. Since then, Bel has played regularly in Montreal and other parts of Quebec. She even toured Germany following the success of the album. Bel has played alongside Ron Sexsmith, Colin James, Serena Ryder, Sloan and opened for Matthew Good in New York and London, England. June 2013 saw the release of a 7 song EP, Don't Forget to Breathe, and Bel is currently writing for a new album in which she plans to move away from the blues and rock that was the core of her previous releases and explore a more contemporary pop sound. No doubt you'll be hearing more from this petite bombshell.
Photos by Stephanie Beatson.