The Montreal Alouettes have gotten accustomed to making headlines with major signings, like last year's arrival of Chad Johnson and Duron Carter. This year the Als are making headlines for another reason: they've signed the first openly gay professional football player, Michael Sam.
The CFL has become a breeding ground for some of the best, most intuitive defensive players, à la Cameron Wake. Up here defenses have to step it up in to cover the large backfield, and for defensive ends this usually means the increased difficulty of coverage develops them into solid NFL players.
So it is no surprise that after exhausting all options, Michael Sam is giving the Canadian game a shot. If Sam plays well here, he could have a real chance at getting back into the NFL. That would make him the first openly gay athlete playing in one of the big four (MLB, NFL, NHL, NBA).
Of course this will really depend on whether are not Sam plays with heart in the CFL. It is expected that he will.
Memories of Jackie Robinson
The Alouettes' signing of Michael Sam continues the story of Montreal being a gateway to acceptance in pro sports. Our great city, it seems, has always been at the forefront of breaking barriers.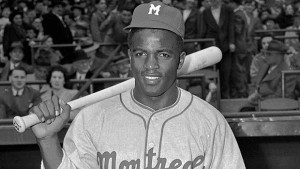 Everyone knows the story of Jackie Robinson, who played for the Montreal Royals in 1947,  and who would become the first African American to play in the baseball in the National League. Both Jack Todd of the Montreal Gazette and Michael Farber of TSN brought up the city's history when talking about Sam this week.
Is Michael Sam the new Jackie Robinson?  Well, yes and no.
While Michael Sam has faced adversity due to his sexual orientation just as Jackie did due to race, a few of the commenters on Michael Farber's post called it an unfair comparison, arguing Jackie Robinson had a much better skill set. While that may be true—symbolically it's similar because it is the first gesture, the first opening of real acceptance.
Montreal Helps Break Barriers that Need to be Broken
To realize its importance all you have to do is think of the about all the men and woman that play sport and have to keep their identities secret. They might have the talent to play hockey, soccer or football but are too afraid to pursue their career because of how their orientation may be viewed by fans and teammates.
Shouldn't sport represent the public. A portion of our population is gay, yet how is it we know of no current professional athletes playing team sports who are? Obviously it is not really possible to continue this culture of secrecy in sport, because now we know so much about the personal lives for sports celebrities in the internet age.
We don't ask heterosexual players keep their lives secret, why do we do so for athletes who are members of the LGBT community?
Hiring and playing the first openly gay professional football player not only adds to Montreal's reputation as a gay-friendly city, it also shows the kind of reception we give to  high calibre athletes regardless of colour, creed or sexual orientation.
As for Michael, he chose the right place to play. He just wants to keep this signing in perspective: "I'm just trying to help the team win some games so we can bring the Grey Cup back home," said Sam speaking at an Alouettes press conference on Tuesday.
For now, while he might be breaking barriers, Michael Sam just wants to be seen as a regular football player. Just as Jackie Robinson wanted to be seen as a regular baseball player, and did so in Montreal, so many years ago.