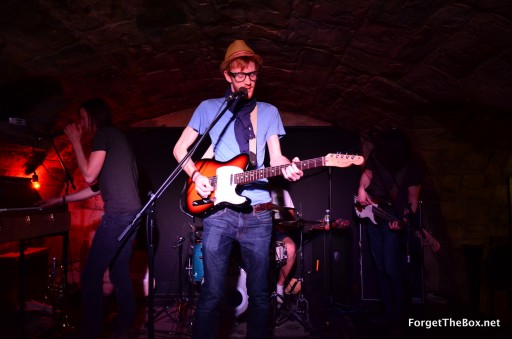 After a long winter that although was mild and nice, Michou kicked off the spring season along with local indie bands Sunfield's and Honheehonhee.
Before the show even started members from Honheehonhee were having fun dancing around  comically and brightening up the nick-named "bat cave". Don't get me wrong though, the CFC may seem small in size, but it more than makes up for it with a great sound; The stone walls make for excellent acoustics and the lighting although a little low adds a kind of creepy atmosphere centering more attention on the stage and the bands and the back room is large with comfy couches that I'm sure a lot of bands would really enjoy.
It was surprising to see the bassist for Honheehonhee actually drinking a tall glass of water instead of beer or liquor after their "warm up" dance, which shows their interest in putting on a good performance instead of just getting wasted. And   a good performance they did put on.   Electrifying even. The entire set was energy packed, with slick foot movement and classic punk/rock style stage presence, they really had us out of our seats and moving. Their woo-hoo synth style pop sound is fun, and cute, with a primal feel to it. At one point the bass and guitarist traded instruments which I thought was a nice touch.   The two songs I enjoyed the most were their single's A is for Animals, and the closing song shouts which can both be found on their websites.
Check them out at L'Escro with The Balconies May 14th before the release of their new album Shouts in June.
Up next was Sunfields who put on a somewhat improvised show. After starting up with their single city, the band kept their soft classic rock feel flowing right till the end.   The lead singer/guitarist used three different guitars during the set. At one point, the strap to his guitar kept falling off and he still managed to play all the way through the song which was impressive.   They ended the show with an original mashup that had never been played before and did a good job, starting smooth and finishing with an energetic finale. I'll be reviewing their latest album Palace in the Sun later on next week.
As soon as Michou started their set, the stage and the entire venue was instantly brightened with their happy atmosphere.   The entire band was so full of life and energy that you just couldn't help moving and smiling and just being happy.   The whole band was in perfect sync without missing a single note. Their single Growing Younger especially lit up the venue getting everyone there feeling a little more youthful.   Every instrument was clean and clear and you could almost feel the balloons from their video when they played eavesdropping fill the room. The singers vocals were just as sweet and even more touching live with their vibrant stage presence that was happy and bouncy. You could tell that they really enjoy playing their music and making people smile. I don't think there was a single unhappy face in the club the entire set.
Their acoustic song Celebrate Love had the crowd singing along reminiscent of a scene from Across the Universe. Before and after the show I had fun chatting with the band members who were very friendly and more than happy to talk about some of their road trip stories and music influences when they were younger. I was even lucky enough to get an interview with the singer and bassist Mike and Ryan after the show. I have to admit I that even though I was looking forward to seeing them, I ended up having a lot more fun than I expected. Michou really lived up to their Artist of the Year Award, and their name, seeing as I will Mich them while they're on tour and look forward to them coming back.
Also make sure to grab some merch from them. Their Montreal merch table was full of hilarious promo items like t-shirts that said, "Happy we met Michou" and "It's nice to Michou".
Make sure to check out the music and grab a copy of Celebrate Love.
For more photos of the night check out our FB page! (Michou, Sunfeilds)
Photos by: Chris Zacchia
http://www.youtube.com/watch?v=rc2iBfPc0V8