Vice President Mike Pence, you know the asshole who believes in "conversion therapy" was recently in my hometown of Buffalo NY to support another known fascist, congressman Chris Collins, and attend a thousand dollar a plate lunch at Salvatores, which is a gaudy, ugly decorated, and ridiculous in itself place. My one star Facebook review was taken down, interesting.
I wonder if women were allowed to attend since Mrs. Pence, aka Mother, was not there? Just in case you didn't get the memo, this guy can't eat in the company of any female if his wife is not there. No $1000 spaghetti and meatballs for Mikey today.
Protestors started the party with dancing. We wanted to recreate the big gay rave outside of Mike's house during inauguration week in DC. "Daddy Pence come DANCE with us!"
Food not bombs brought tea and vegan chili. There were rainbows galore. I really think a sing a long of Danzig's Mother while taking a knee would have been most appropriate as he passed.
The motorcade zipped by us so quickly. Like a flash from a movie. All of the cops shut down heavy traffic from all directions on one of our biggest intersections. Then came the black vehicles that looked ominous and official to say the least. There was also a random U-Haul… if I were him I would have totally rode in the U-haul.
We had to stay on the sidewalk, the cops said dance as much as you want. The counter protestors, alt right self militia assholes, stood on the perimeter with antiquated headsets that probably didn't even work. They took photos of us and we documented them just the same.
They were so obvious. One man had a shirt on that said Karl's Kar Klub… ummm when three things that should be spelled with a C are changed to Ks I have a feeling you are a flaming disgusting pig of a racist.
Another woman wore a yellow jacket and 90s apparel. She looked like a crazy church mom who would so nicely tell you to drink the Koolaid and strap up your white sneakers.
Another really confused me, he was a young white kid with dreads! If you can appropriate black culture then support a white supremacist scumfuck then you are an extra gross enigma.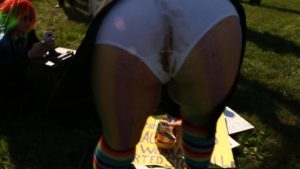 One of the alt right jerks confronted me when I walked over to my car alone, "Are you supposed to be president trump?" "Yes" I responded. Then they asked if I was for or against him, I said VERY AGAINST, and then he laughed "Well the president doesn't look anything like that!" "HOW DID YOU KNOW WHO I WAS THEN ASSHOLE?" I then proceeded to show him my chocolate skid marked tighty whities and walk away, that's the president he voted for. Cheeto jesus with shitty undies.
So I saw Mikeyboy on tv at a machine company in Collins district later that day. He was talking about tax reform that would only help the rich while in one of the poorest rustbelt cites in the country, WTF? Just like everything else in this wretched regime it made no sense to me.
When people yelled "GET A JOB" at us from their giant gas guzzling cars I wanted to yell, fix our economy and stop raping the poor! I have two jobs and make time to fight for what I believe in because I must.
All and all it was a pretty non-eventful, peaceful protest. Queers for Racial Justice got us out there and informed. I was happy to be magically off work that day and ready to rumble, he has to know that he is not welcome here.
Haters and bigots can go fuck off, we will always be here to shut them down peacefully. I will happily not use my milk of magnesia stash today or take a rubber bullet to the guts.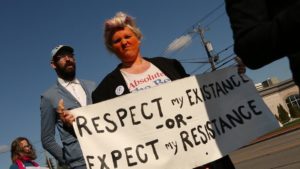 We need to fight them with all we got. Get out there and physically protest! Make your everyday life a protest!
Respect my existence or expect my resistance! (That was my favorite sign there so I chose to carry it.) If you are an artist you better be making art about how this government makes you feel. It is our job to take them down.
Remember that people died at Stonewall so you can hold your girlfriend's hand in public. We have come a long way and are in danger of getting those rights stripped by assholes in power. We must stand up for those who cannot. There was a transwoman in a wheelchair leading chants. We all need to be more like her!
I am dressing up like Donald Trump again this Saturday for The Stripteasers Haunted Whitehouse show at Nietzsche's because nothing is scarier than our current political state in the US. I have been dubbed The Alec Baldwin of burlesque, and I am ok with that.
I hate being trump to be honest with you. Its hard to be an asshole, I am a method actor so I become the character. I will be sitting on stage on an actual toilet reading his actual stupid tweets all night long.
Twitter on the shitter, thats what we get folks. This is real life. Save us all…