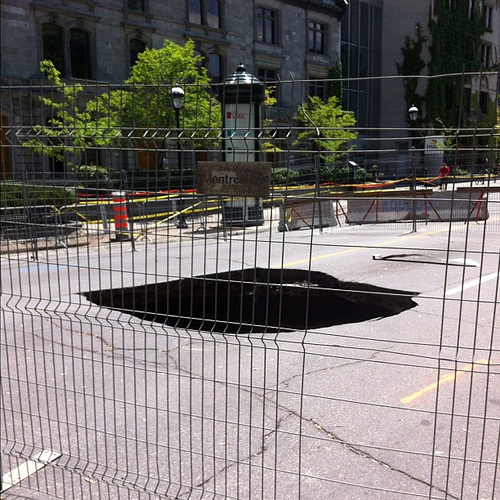 In the 1942 classic Casablanca, a scene early in the film pits Rick Blaine (Humphrey Bogart) against Nazi Major Heinrich Strasser in a test of Blaine's cynical neutrality. Strasser asks Blaine if he can imagine the German army in New York, to which Blaine cooly answers: "Well there are certain sections of New York, Major, that I wouldn't advise you to try to invade."
The same could now be said of Montreal, only instead of territorial New Yorkers, German Panzer divisions would have to navigate the Montreal's rapidly eroding streets.
Yet despite two burst water mains and two sinkholes forming in the last few weeks alone in downtown Montreal – snarling traffic and costing the city hundreds of thousands of dollars – the City contends that we are, in fact, right on schedule when it comes to roadwork.
According to City of Montreal spokesperson Jacques-Alain Lavallée, as of May 31 the city has dealt with 390 such incidents. The sum total for 2011 was 892, according to Lavallée.
The former figure has increased since the end of the month, however, with a sinkhole forming at the intersection of Ste. Catherine and McGill-College last Tuesday and water mains bursting later that week on Peel and St. Dominique streets, causing water to seep out of cracks in the road.
The sinkhole was the second to form in a month, following one on Sherbrooke street near McGill University that opened up shortly after the 400 000-person strong May 22 demonstration against tuition increases.
Lavallée said the sudden rash of infrastructure damage has been a result of a lack of past investment in road maintenance.
"It's basically because maintenance hasn't been [uniform] over the years," said Lavallée.
Between 1992 and 2001 the city invested only $12.5 million in water main maintenance, according to Lavallée. Since 2002, the city has invested $1 billion.
"Sometimes it's also a minor leak that appears, it's not something that people are always aware of," added Lavallée, "but one drop at a time it can cause erosion, and one truck can drive over it and cause a sink-in."
Aging water mains have also suffered from new environmental stresses, he said. With some water mains dating back to the Victorian era – the pipe that burst, triggering the Ste. Catherine sinkhole, was installed in 1896 – extreme weather and increased traffic are quickly taking their toll.
"The numbers of cars and trucks have increased dramatically in Montreal," said Lavallée, who added that "abrasives" like cold-weather tires and street salts also contribute to erosion.
The cost for this month's repairs is already reaching $1 million. Fixing the Sherbrooke sinkhole cost $320 000, according to a news release from the city. Lavallée estimated the total cost of fixing the Ste. Catherine's sinkhole at roughly $675 000 including additional expenses like road signs and personnel to re-direct traffic.
Lavallée said he expects Ste. Catherine to be re-opened to traffic by next week, with workers pulling 16-hour shifts, seven days a week.
Photo courtesy of Carlos Pacheco via Flickr