The McGill Institute for the Study of Canada brought together a think tank of some of the most successful people in Canada for a two day conference entitled Lifting off and Flying High: Talent and Success in Canada. I have not see this much Canadian talent in a room since the premiere screening of Hard Core Logo.
I mean, it isn't everyday you get to shake hands with the man who founded the Giller prize or meet the writer of Meatballs, or speak to the co-founder of Blackberry. But here I was, meeting the great Canadian success stories our little big country. We were making it on the world stage and this was proof, right?
Many of us who work in the very competitive fields that relate to the arts are trying to find a job and succeed in life but don't know the steps that we have to take for that gold record, for recognition of any kind or that special combination of talent and luck that opens doors. These were a few of the question that lingered in my head as I walked into the conference room at the Omni Hotel. From what I absorbed over two days of panels and discussions, making it in Canada can be difficult and competitive, even though we possess a huge reserve of talent.
Panelists included some of the biggest names in Canadian film, music, television, sports and technology. They delved into questions of what makes a successful Canadian and how they can sustain their success?
Musicians were represented by many up and coming artist. Two in particular, Coeur de Pirate and Patrick Watson, are emerging in Quebec from lesser known underground status to "making it" in the world.
Coeur de Pirate questioned the possibility of making it in Quebec and mentioned how hard it was for her here before she made it in France. On the second day, during the Ladder to Success Panel, Watson spoke about how Quebec's distinction creates a unique situation that breeds breaking with the conventions. This, he argues, leads to Quebec being a premier place to make music.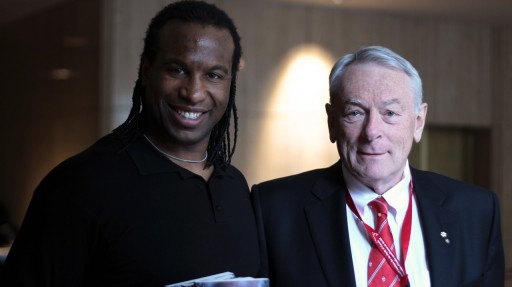 The world of sports was represented at the conference by many big name figures like Richard Pound and Georges Laraque of Montreal Canadiens fame. Olympic athlete Jennifer Heil thought that we need to get better sports in school in order to enhance what we built with the Own the Podium program.
Does Canada have an adequate talent pool to meet the demands of the many encompassing technological fields? Has has Canada done enough to attract the talent needed from outside its borders? Technology panelists raised these questions and more at the conference.
A very lively Raj Khaan spoke about how Canada can move forward with technology: "There's gotta be some investing and tax breaks. We have to help young innovative people build a business." Meanwhile Sid Lee chairman Bertrand Cesvet's speech was broken up by high octane and frenetic ad images focused on looking elsewhere for talent.
Canadian identity was a prominent topic as well. Headline speaker Jim Balsillie of BlackBerry fame argued that Canadian identity and innovation in Canada were being "stifled by lack of government involvement in intellectual property rights."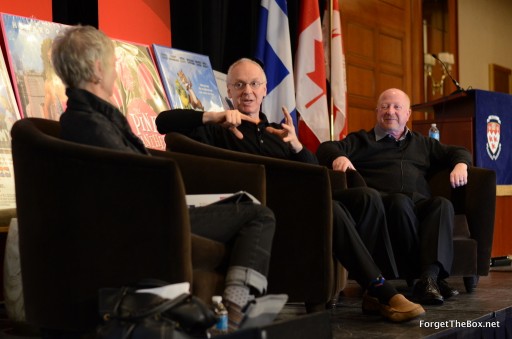 Filmmakers at the conference addressed the issue of how to best protect Canadian identity and culture in the world of cinema. High Cost of Living director Deborah Chow spoke about how difficult is in Canada to make Canadian films that are popular: "Sure you can make a film, it's just getting people in the theatre that is the hard part." While  many new filmmakers had the same view, the presence of Bon Cop/Bad Cop director Kevin Tierney reminded us that it is possible to make English-French crossover films that are successful domestically.
Len Bloom, screenwriter of many Hollywood hits spoke about the road that he took was not a straight path and that anyone getting involved in these type of fields ought to prepare for both many failures and many opportunities. Chow echoed this when she spoke of how being rejected by Concordia Film School opened doors for her to get into Columbia.
Jack Rabinovich, the man who started the Giller prize, also spoke of opening doors and said that he may have never intended to be a patron of the arts but that when the opportunity arose for him to start the literary prize, he took it.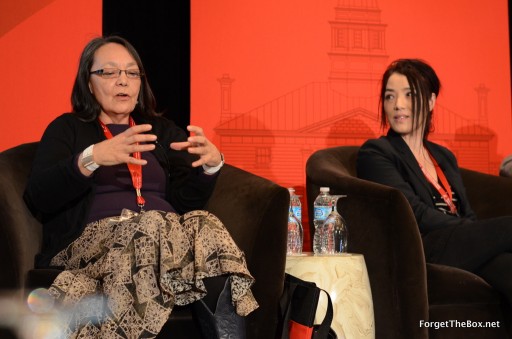 Tantoo Cardinal, one of the most famous Canadian native actresses and activists, talked about the difficulties being a minority actress and how easy it is to be typecast. Speaking on identity, she brought up the many issues facing this country's native population and argued that Idle No More was an important step. "How will be find an identity in this country when we choose to ignore the founding nation of this country."
The two day event was a success with two packed rooms both days. It was great to see that there was still a strong interest in Canadian culture, even though at times we don't know exactly how to define ourselves as a nation. The conference was a bump to the morale of any person trying to make a success of their life and a great motivator for all the students in attendance.
* photos by Chris Zacchia except Georges Laraque/Richard Pound photo by Cedric Yarish