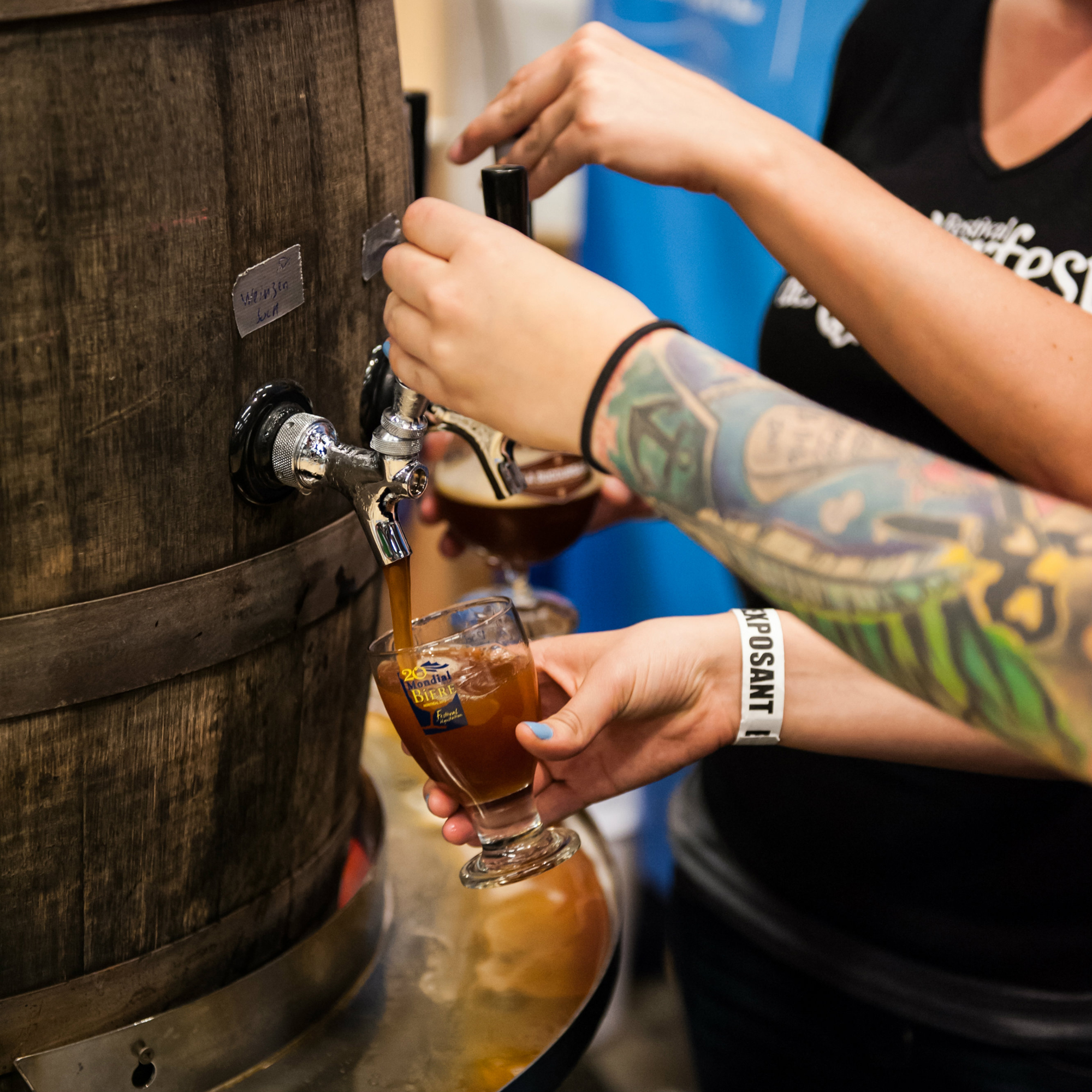 Gallons of rain and new beer characterized the 21st edition of the Mondial de la Bière at Palais des congrès.
While I didn't have the liver (or the cash) to sample all 270 premières on tap, I still managed to round up a short list of "solid bets" to last you through the year to come. So file them away for next time you intend to spice up your malted life.
1. Les vergers de la colline, CID Cuivré 10%
This high fermentation cider is, to me, the very reason festivals exist – tasting a product you know (and most of us have had CID products, perhaps unknowingly, at some bar or other) all while witnessing it elevated to new, bold heights. Clocking in at a heady 10%, the rich mouthfeel of the Cuivré somehow doesn't overwhelm (a few of us went back about three times). What's more, its strong alcoholic content is mercifully protected from oversweetness, leading to a much drier, more pleasant glass than the classic CID varieties. To top it all off, the new Cuivré 10% is available in both flat and sparkling forms.
2. Glutenberg – IPA 6%
This playfully-named gluten-free producer will almost certainly surprise you. Non-allergenic or not, it's a serious contender in the craft scene and it showed this year – despite 100% gluten-free offerings, their stall was packed and often required a wait. The IPA, a newish offering, probably won't appeal to IPA purists (except those trying to get off gluten, who will be overjoyed at the quality!). But if you're a lager fan, cider fan, or just a relative newbie to IPAs, it's a magical choice. It has spice and piney kick lingering from hops, but a brighter, simpler finish that almost makes you think you just drank a mead or lager. You could definitely drink this for an evening without getting tired of the taste.
3. Pub Brouhahah -Dernière Mission 6%
The brash blonde (with a label to match) was a fabulous find. Take a sniff and revel in those great aromas, and enjoy the subtle sweetness (honey or pear? I might have been imagining that), without it ever destroying the aftertaste. Again, a beer you could sip on throughout a long summer night.
4. Noire et Blanche, Abyss'ale 5.5% and Litchi-Tchin 5%
This fun-loving, accessible microbrewery from Ste-Eustache was so friendly that they get two nods. The first, their highly-touted Abyss'ale, a dark red at 5,5% delivered as promised, and literally put shivers down my spine (but then again, I'm biased when it comes to spine-tingles, being one of those odd people who get off on excellent red beers more than an exceptional IPAs). The second, a blonde with lychee and ginger, was…well, an experience. Should lychee and ginger go in beer? I still don't know. Nor do I know whether such a novelty will endure in the market, but we tip our hats to them for a memorable taste.
6. Belgh Brasse  – Mons Rousse D'abbaye 5.5%
The Mons red, which has already won some serious bling around the world at beer competitions, is a no-brainer. You can't go wrong with any of their beers (white, blonde, stout). If you can find them (that will be the challenge), stock up for the year, and ration them out on special occasions. You absolutely will not regret it.
7. Thronbridge Brewery, Raven Dark IPA 6.6 %
An intense almost smoky IPA from Derbyshire, UK, with a profile that even a non-hoppy lovers (like me) can broadly appreciate. The IPA in this case was lifted into an almost caramel realm.
8. Birranova, Abbocata 6,5%
What is not remarkable about this English style ale out of Italy? I'll leave it at this: 'tis a fantastic artifact of the growing microbrew movement in the country. This one was definitely in the bold new style, with a strong and bitter nose, but finished smoothly, almost innocuously, like the lighter lagers we're used to from Italy. This is a beer to drink when you cook a great gamey Northern Italian dish, and want to dream of Tuscan hills with something other than wine for a change.
9. Jukebox, Blonde 5,5%
While many new breweries are proud of their hoppy taste, only Jukebox took it to the next level, forcing me to sniff bowls of damp hops, whose skunkiness almost bowled me over. Tasting the beer, however, it is clear that these guys from Les Cèdres have done everything in their power to honour the herbaceous perennial well. An American Pale Ale up there with the best of them.
Have a favourite to add to this list? Tweet us @forgetthebox or @JoshDavidson and let us know!