By: Alexia Jablonski
On the sleepy suburban town of Coquitlam (pronounced koh-KWIH-tluhm) in South-western British Columbia, I began to pack. Hastily, I went over the contents in my suitcase:
Towel: check
T-shirts: check
Oversized teddy bear: check
Quebec flag: double check
Yes, the following day I was headed off to Montreal.   Well, not exactly Montreal, not for the first few weeks.   Varennes, to be precise.   Never heard of it?   I'm not surprised. I have yet to find someone, other than a native Varennois, who could recognize this small town on the South Shore.
Fishing in Montreal
I was flying to Quebec not for a mere summer excursion, but rather to settle in to permanent residence as I enter my first year at McGill University in the fall.   To date, I have been here for over two months.   Now that I have said my finals adieus to my relatives in Varennes, I am living in Downtown Montreal, in one of those cramped dorm rooms where the mini fridge serves not only as food storage container, but also as a counter top, dinner table and air conditioner.   But I cannot complain, because my stay in Quebec has been one of the most exciting and eye-opening experiences of my life.
I had my expectations of Montreal before arriving: in particular, I was warned of the aggressive drivers, the acrobatics required to avert a full-blown language crisis, the unnatural veneration of poutine and as my friends have told me, the general "weirdness" of Quebeckers. Certainly, the most difficult transition was getting used to the people and the day-to-day life in Montreal.
Montreal is Vancouver's vivacious, outspoken, politically incorrect big brother.   Most of the time this is a good thing. The pervasive joie de vie, exemplified in lax drinking laws, comedy shows, rich food, dance festivals and liberal movie censors, is an incredible occurrence coming from an area where such things are taboo.
Though local sites, events and jokes are bound to offend many, many people (including a few worried observers back in B.C.), such epicurean ideals tend to grow on you.   Where else in the world could you expect to find fifty-six different types of maple syrup, or hear such a fascinating, multilingual dialect of expletives?
Shopping Montreal-style
Through my persistent efforts to explore the entire city, I have discovered several unique districts.   The Mont Royal is my favourite, with its lush forests, trails and lakes. Westmount, the Quartier Latin, the Plateau Mont Royal, McGill, the Village, Little Italy, the Old Port and Chinatown also have their own appeal.
My inner foodie has revelled in the huge selection of fresh food at the Atwater and Jean-Talon markets. The old-fashioned townhouses, massive cathedrals and abundance of shopping centres have at times left me awe-inspired.  And with the festivals celebrating everything from Baroque music, fashion, asparagus and fish soup (gibelotte, anyone?), Quebec has truly elevated celebrations to a higher level.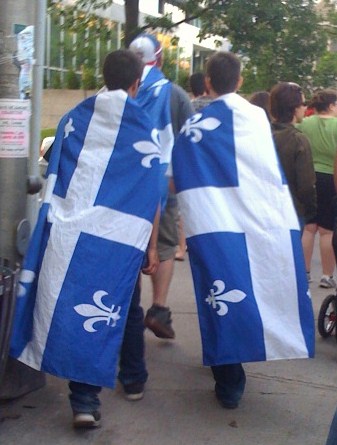 Appropriate St-Jean attire
The granddaddy of all festivities, though, was Saint-Jean Baptiste day, the Quebec national holiday, in the capital city. Begot of francophone pride, historically plagued by acrimony and controversy, la Saint-Jean is unlike any other event in Canada.  Maybe it's for the best. There is only so much intense partying one nation can handle.
Unfortunately, as the summer comes to an end, I will soon have to relinquish my glorified tourist status to that of a mere student. My perpetual excuse for laziness and absent-mindedness ("I'm on vacation!") will cease to be plausible. Yet in the next few weeks, I plan to continue my journeys, visiting even the outermost areas of the city, to fully appreciate the colourfulness of Montreal, and to eventually learn to call this place home.
Photos by Alexia Jablonski