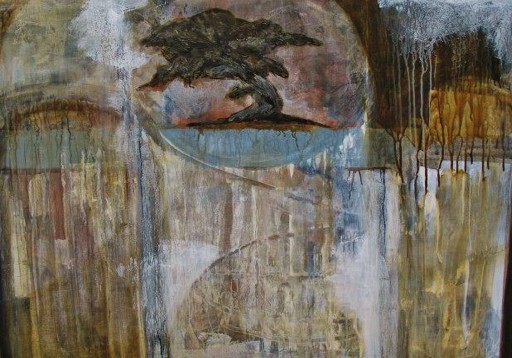 Montreal Art Centre located at 1844 William offers artists a tremendous opportunity to work and exhibit for a very reasonable price, and many have been quick to take advantage of these openings. The exhibition spaces are large and full of light, making them perfect for showcasing paintings and sculptures. The artists range from the professional to beginners and the centre offers facilities that fittingly accommodate their needs.
The staff, mostly made up of artists and art students, have created a place that has a community feel to it, yet this community is not exclusive. Many participate and no one is barred or indeed made to feel barren. There are a number of art and ceramic classes you can partake in, taught by knowledgeable artists who have the expertise to make you improve in your venture be it old or new, and the artists' studios are also open so you can drop in and observe them in action.
I met up with one of the resident artists whose work I have come to admire greatly after seeing it in an exhibition here in Montreal. Beverly Farley is a painter who has been bridging the gap between abstract and other genres like figurative and landscape, producing a new feel to some old more traditional fields. Her work is very intuitive and spontaneous she points out as I show a liking for one of her more dark and enigmatic pieces.
"I am surprised at the many hats I have put on: daughter, wife, mother, grandmother, businesswoman, artist… I feel that creativity is the central and innermost role that is playing out at this point in my life and what a great way to close the circle," she writes for one of her book descriptions which concentrates on philosophy of time and how one's life can be fully appreciated.
The notion that creativity comes from a source within is certainly an interesting concept; and arguments for and against are aplenty within the art history field. The role of artist has been questioned by many critics and artists themselves. Some conclude that art and making of anything artistic must be an open procedure and that greater transparency brings better understanding; whilst others have settled on the doctrine that if the process and technique are exposed the magic and allure of the artwork is lost to the viewer and it becomes less important.  
In the "The Work of Art in The Age of Mechanical Reproduction" Walter Benjamin associates the role of a painter allegorically with that of a magician, who performs the act while keeping the audiences at bay: "The magician maintains the natural distance between the patient and himself; though he reduces it very slightly by the laying on of hands, he greatly increases it by virtue of his authority." It must be stated that Walter Benjamin in that description was trying to prove the superiority of photography to painting, yet it raised an interesting point that has preoccupied many critics since.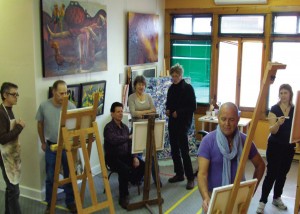 When it came to Abstract Art Clement Greenberg talked of "Purity" which aimed to distance the art of painting from all other mediums of creativity and Arts like poetry, music and dance. Greenberg believed in superiority of painting over others, and in particular he saw Abstract Expressionism as a defining genre of painting. It is certainly easy to dismiss his views as that of his era; however artists who he mentions as exemplifying this authority like Jackson Pollock were greatly affected by the notions of painters having supremacy and creative process as sacred. Pollock has been reported as having been greatly ashamed and later depressed after featuring in a film painting and some even go as far as attributing his excessive drinking and sporadic behaviour toward the end of his life as a manifestation of that perceived humiliation.
Personally I believe in creativity stemming from the need to express ones emotions and ideas, and some people are compelled to do this after experiencing pain or sorrow, and others might see it as a way of finding common grounds with humanity. Whether you see the Arts as spiritual or practical, one thing is clear and that is the power of art to change. It is unimportant whether you see art as magic, what is important is allowing the art to take you with it on a journey of discovery. For me the artists at the Montreal Art Centre do this with great success, and being able to visit the artists and seeing them in the process or being taught the tricks of the trade in the classes inspire me to be more creative.